And now that we have had a rise in CV19 cases and level 4 restrictions have been set, the usual panic buying has set in and there will be very little meat based products available in the supermarkets again, so this is a perfect time to check out whether a meatless diet might just be something that works for you.


Anyhow, I hope that you are doing your best to stay active, and not comfort eat too much, as this crisis can be seen as an opportunity for mindful living, rather than a restriction on your lifestyle.

O.K. Lets begin with this edition's Power Tips self help report for you... ENJOY!


In your research for how a meatless diet plan works and what it can do for you, consider how much meat means to you and your meal planning. You may want to try a one day (or one meal) per week plan to do without meat before you dive into a complete vegetarian lifestyle.


A meatless diet plan means that you abstain from consuming meat, which includes seafood, red meat, poultry and any other animal flesh and it can help you lose weight when done properly.


An extended form of vegetarianism includes shunning any by-products that causes an animal to be slaughtered. You can lose weight by going meatless even once a week, but the main concepts of a meatless diet are to reduce the risk of diseases and to protect the earth's resources such as fresh water and fossil fuels.


We now know that consuming meat can increase many chronic and sometimes preventable diseases such as diabetes, obesity, heart disease and cancer. Consuming more vegetables has been found to decrease the risk of coronary disease and strokes.


That, alone, is enough to make you want to switch to a meatless diet plan. And research has shown that even having one meatless meal per week can significantly help your overall health.


Your wallet will likely get fatter if you go meatless. Weekly budgets can be reduced by adding meatless meals to your menu planning. Meat is more expensive than beans, grains and vegetables that you would typically substitute for meat.


There are so many extra expenses for producing meat – and it's passed along to you, the consumer. Raising meat for food requires feed and other necessities, plus the transportation costs to get it to market.


Healthcare is also a good reason for going meatless. You may be able to curb the onset of expensive health care since consuming meat adds to your risk of obesity and chronic diseases such as coronary, stroke and cancer.


Strong evidence shows that eating a diet that limits red and processed meats can increase your longevity. Plant-based proteins such as legumes give you a higher percentage of fiber, magnesium, iron, folate, protein and zinc and also lower your saturated and total fat intake.


Another principle of following a meatless diet plan is that it helps the environment. It takes many more gallons of water to yield only one pound of beef than it does to grow a pound of vegetables.


You can minimize water usage by eating vegetables and grains. Reducing fuel dependence is another reason to think about a meatless diet plan. The meat industry uses tons of energy to have enough grain to feed livestock.


Those who are concerned about the environment, the treatment of animals or who might be at high risk for chronic diseases such as diabetes, coronary disease, stroke and cancer can reduce the risk by eating a meatless diet.


As research progresses on eating meat versus eating fruits and vegetables, evidence shows that going meatless can be a significant factor in staying healthy and feeling better.


Obesity can also be helped or avoided by adhering to a meatless diet plan. Studies show that people who ate a diet of plant-based, vegetarian meals have a lower body weight and BMI (Body Mass Index) than those who eat diets with heavy amounts of meat.


If you've been told or know from your family history that you have a high risk for cancer, coronary disease and other chronic diseases, you should think about reducing the amount of meat in your diet – or going completely vegetarian.


Studies show that almost any health problem can be helped by reducing meat intake and concentrating on a diet of vegetables and fruit – rich in fiber and other nutrients and minerals.


A meat-free diet can also reduce your risk of Alzheimer's disease, dementia and other mental health problems. Mental acuity is especially important to be concerned about as you age.


Vegetarians are often concerned about getting enough protein in their diets. It's easy if you're just abstaining from meat, but also eat dairy products such as milk and cheese.

Vegans are a branch of vegetarians who also abstain from any animal by-products but can still get enough protein from plant-based foods such as soy and quinoa.


If you're a person who loves meat and would find it very difficult to give it up, try the meatless meal one day a week – and experiment with recipes. You might find that you want to add more meatless days to your regimen.


Cutting down on meat consumption can definitely do wonders for your health – helping you lose weight and get fit - and make an impact on the environment at the same time.


First, you need to research the diet thoroughly if you plan to dive in and become a vegetarian or vegan. You should know all of the good and bad about taking on a meatless diet.


Thorough research can help fend off the negative comments from those in your life who may not approve of the diet or who think it may be bad for your health. When you know how a vegetarian diet can enhance your overall well-being and help you lose weight, you can successfully state your reasons for switching to a meatless diet.


Fortunately, there are some great vegetarian foods available on the market today. They're available in supermarkets and health food stores. You might also want to frequent farmers' markets to find some unique and nutritious fruits and vegetables.


Grains you can find that may be new to you include barley, quinoa, couscous, millet, orzo and alfalfa. They all make great additions to your vegetarian meal. You'll also see faux meat items such as vegan faux chicken, veggie dogs and veggie burgers.


You may not like some of the faux-vegetarian meals, but try a few to see if they are possibilities you can add to your menu. Veggie faux hamburger meat can be used in soups, stews and sauces like spaghetti sauce. Most people won't know the difference.


Take some time to learn how to read labels. Some products use additives, thickeners and other items that aren't vegetarian. You'll also need to know if you're meeting your nutritional needs on a meatless diet.


If you decide to go meatless one day per week, don't fall into the trap of eating unhealthy snacks and processed or fast food. A good vegetarian diet plan is based on fresh-cooked meals using grains, vegetables and beans.


Shop seasonally for vegetarian items like fruits and vegetables. You'll pay less and get the benefit of eating fresh and healthy food. When you decide to adhere to a meatless diet plan, it's an adventure in shopping, finding new recipes and trying new things
DO YOU HAVE CHRONIC FATIGUE? There is help and NEW HOPE for you! Our unique combination of natural ingredients is proven to help beat CFS
Did you know that Chronic Fatigue Syndrome can be as disabling as Multiple Sclerosis, Lupus, Rheumatoid Arthritis, congestive Heart failure and similar chronic conditions?
In 2012 I began co-writing a book about the CFS therapies that had worked for me and my clients.
The book fully explains all the most popular and effective therapies and treatments that are most effective in beating chronic fatigue syndrome.
There are many methods and processes that you can try out for yourself to discover the ones that resonate best with your lifestyle and personal philosophies.
In 2012 I began co-writing a book about the CFS therapies that had worked for me and my clients.

The book fully explains all the most popular and effective therapies and treatments that are most effective in beating chronic fatigue syndrome.

There are many methods and processes that you can try out for yourself to discover the ones that resonate best with your lifestyle and personal philosophies.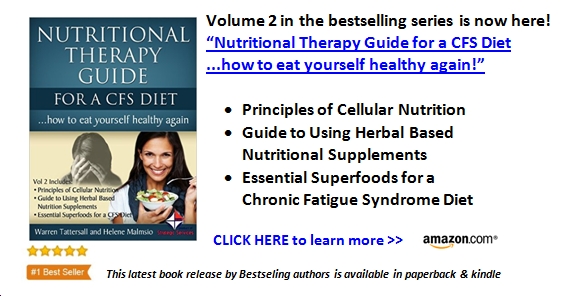 ---
~*~*~*~*~*~*~*~*~
ADVERTISERS:
If you have a product or service that you would like to feature here for our subscribers, we feature approved classified ads here for only $17 per edition, so please Contact me me to book your advertisement (or an advertorial article).
~*~*~*~*~*~*~*~*~
You can check out my latest publications online here at
>> http://lulu.com/spotlight/helenemalmsio

and >> https://www.amazon.com/author/strategic


I'm very proud of my range of journals and planners!
They work. They make you happy. Use them.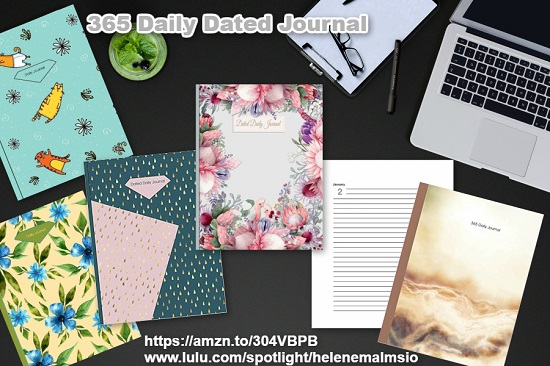 "Increasing Your Success on a Meatless Diet" Report continued...
Sample Meal Plan for a Meatless Diet
Whether you plan to quit meat cold turkey or just eliminate meat from your diet one or two days per week, it's a good idea to plan your meals ahead of time so you won't be tempted to eat unhealthy items such as a bag of chips or a candy bar for your nourishment.


There are so many incredible meals you can create without using meat that you'll be amazed at the choices – and the taste. You'll find that you don't have to feel deprived, but instead embarking on a wonderful and tasty journey of eating and preparing foods and one that improves your health.


It's not complicated and there are many healthy and simple meals you can try that don't involve meat. You can get your protein with foods such as whole grains, nuts and beans and they also provide similar texture and calories as meat.


Other vitamins and minerals can be obtained by the vegetables and fruits you choose. Breakfast options are plentiful – oatmeal, skim or soy milk, honey, whole grain bagel with herbed cheese


Try vegetarian bacon or sausage with a scrambled egg and some whole wheat toast. Always include some fruit with your breakfast to complete the health circle. Strawberries, blueberries and peaches can perk up whole grain cereal and other choices.


Lunches can be hearty and satisfying and include everything from soups and salads to sandwiches and bean tacos or burritos. Vegetarian chili made with tofu (faux hamburger meat is also an option for soups and stews), cornbread and salad make a great lunch.


If you need to pack lunches for school or the office, try a veggie wrap or pita sandwich made with hummus, lettuce, cucumbers and include options such as avocados, cheese or beans.


Quesadillas and veggie burgers are always great options for lunch or dinner. For a quesadilla, simply melt some cheese between two flour tortillas and add some roasted peppers and tomatoes. You can purchase pre-packaged veggie burgers in several flavors or make your own.


Pasta, steamed vegetables, salads, veggie fajitas, soups and stews can all be exchanged in lunch and dinner options. Many slow-cooker options exist for the vegetarian that can provide hearty and healthy meals – and leftovers for lunches.


Experiment with some of your old meat recipes and substitute tofu-based meat substitutes or vegetables. With the great options available today it's difficult to tell the difference.


Use your imagination for snacks and desserts, but choose healthy options like walnuts, fresh dates, fruit and veggie snacks dipped in hummus. Smoothies, seeds and dried fruit can also be great snacks, but watch out for high caloric content.


Tips to Increase Success on a Meatless Diet


Newbies to the meatless diet are usually enthused for awhile, but tend to become bored with being a vegetarian if it's not satisfying to them or they haven't found enough variety to keep them interested.


That's why it's a good idea to try going meatless one or two days a week and experiment with recipes before going entirely meatless. Making a gradual change can help you eventually succeed.


You may want to start by eliminating one type of meat from your diet. It's recommended that you take pork off your meat list first, then chicken and fish after a week. The next week you might eliminate beef and finally, shell fish such as shrimp and crab.


After a couple of weeks the cravings for meat should subside or stop entirely. You'll likely have a few relapses – that's normal. You've been eating meat probably all your life and this is a whole new ballgame for you.


You can't really call yourself a vegetarian until you stop eating animal flesh altogether. Eating meatless meals one or two days a week makes you a semi- vegetarian. If you're trying to lose weight on the meatless diet, be careful about the calories you're consuming.


Some vegetarian choices such as nuts and dates can add unnecessary calories to your meal if you over-indulge. Most restaurants and even fast food places today have vegetarian options on the menu, but be aware that some may be laden with calories.


If your family wants to continue eating meat, don't make a big deal of it. Learn how to fix yourself a vegetarian meal such as a grilled cheese sandwich or pasta when they're eating meat. Pre-packaged vegetarian meals can help give you some variety.


Those who want to embark on a meatless diet usually worry about getting a complete protein. Don't worry - you'll be eating legumes, grains, eggs and dairy and soy, which are also complete proteins.


If you're invited to someone's house for dinner and you know they will likely have a meat dish for the main entrée, call them ahead of time and let them know that you no longer eat meat, but can eat side dishes such as a salad.


It's not good to blindside a host at the last minute after they've gone to some expense and time to prepare the meal. Letting them know ahead of time will help everyone stay comfortable.


When you make the decision to commit to a meatless diet, let your close friends and family know of your decision. You may get some opposition at first because people are sometimes misinformed about vegetarianism.


That's where research beforehand can help you answer their questions and concerns. In the end, it's your decision and others will get used to it eventually. They may even begin their own commitment to eat meatless at least once per week.


So many good reasons exist for eating a meatless diet – losing weight, lessening your impact on the earth's eco-system, abstaining from animal flesh to keep them from being slaughtered, improving your overall health and lowering the risk of chronic diseases.


It may not be easy at first, but eventually you'll be glad you made the choice to eat a meatless diet and your mind will reflect the positive changes of replacing meat-heavy meals with a plant-based diet instead.
~*~*~*~*~*~

I hope you enjoyed this self help report and will put the information to good use!

You can learn more here about how to start a raw food diet and enjoy food without a focus on meat products.

There is a ton of useful resources and training guides online at my website so please visit and have a jolly good look around at all the content subjects. You will learn a lot at my self help supermart - and its all free.

And please, as I keep asking, do let me know what your most desired self help topics are, and I'll try my best to publish exactly what you are looking for


~*~*~*~*~*~
Get Motivated!
Here's a Free Motivational Social Media Graphic For You To Enjoy and Share!
All you need to do is to right click on the image and select "Save image As" to download it to your computer.
Feel free to download and share the social media image below with your friends and family - ENJOY!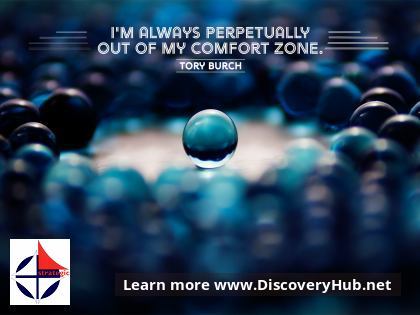 Healthy Power Tip:
Chronic Pain
There are a number of conditions that cause chronic pain. From arthritis to fibromyalgia, there are different forms of treatment, so talk to your doctor today.
Ginger tea can help with joint pain and some say it's as effective as over-the-counter medications.


Medications and natural treatments like lavender oil can help, but sometimes all you need is to increase your water intake to ease a mild headache.


Period pain? Try a hot water bottle, ibuprofen or some tea with fresh thyme.


Stretching and exercising regularly is often the best treatment for every day aches and pains.


If pain is keeping you from sleeping, try these tips: reduce caffeine, avoid naps, exercise early in the day and create a relaxing before bedtime routine.


Many chronic pain symptoms can be relieved if you are at your ideal weight. Get healthy and get rid of pain.


Acetaminophen (Tylenol) is effective for relieving general pain and fever, while ibuprofen (Advil) is good for relieving pain from inflammation.


Your Free PLR article:
"7 Digital Product Creation Tips for Online Marketers"
I'm getting back to updating the PLRhub.net site with new PLR content for you, which you can check on the directory page here:
PLRhub Article Packs
and also have a catalogue that you can review and just check off the packs you have already purchased.
You can grab the latest version here at any time (right click to download):
Strategic Services PLR content Catalogue
~*~*~*~*~*~*~*~*~
"Discover the Amazing Health Benefits of Apple Cider Vinegar"
Anyone who's been trying to make money online for more than 2 minutes would have heard this line repeated ad nauseam - "You need to create your own product!!!"
Maybe 2 minutes is an exaggeration, but you get the idea.
Most marketers worth their salt know that there's good money to be made by creating and selling their own digital products. Affiliate marketing is good, but owning and selling your own products is even better.
If you're competent at traffic generation, you'll get to keep 100 percent of the profits from the sales you generate. You can also recruit affiliates to promote your products and expand your market share while skyrocketing your income.
Once you've mastered product creation, the possibilities are endless when it comes to boosting your online income. As good as this sounds, there are a few fundamentals that must be in place for you to succeed at digital product creation.
1. Is there a market for your product?

This is without a doubt the most important factor of the lot. While creativity is a marvelous trait to have, trying to invent a new digital product that sells like hot cakes is infinitely more difficult than improving upon existing ones.

The case of not reinventing the wheel holds true here, and the key to succeeding with your digital product is to see what's currently popular and selling well – and emulate these winning products.

You'll create a similar product which addresses the same topic, but from a different angle. This is where your creativity needs to shine. You MUST have a unique selling proposition (USP) that makes your product stand above the unwashed masses of products that litter the marketplace.

Both Nike and Puma sell athletic shoes, but the former tells you to "Just do it!" with a swoosh symbol, while the latter is the only major sports manufacturing company on the planet with no slogan but lets the logo of the powerful leaping puma say all that's needs to be said about the brand. Similar products… but very different USPs.

Spend time researching and making notes on what products are selling well and think of how you can improve upon them. Then go ahead and create a better product.


2. Spy on your competitors

Watching what your competitors do will help you navigate the marketplace and understand why some vendors excel and some fail.

Study their products, USPs, sales copy, sales stats (if available) and so on. Read through the customer reviews and see where their products are lacking.

Can you create a product that bridges the crevasse of customer dissatisfaction? If you can, you'll have people flocking to buy your product.


3. Niche down

Once you've done your market research, it'll be time to niche down and create a product for a specific topic. So many newbies falter here and make the cardinal error of trying to create a 5000-page magnum opus that aims to fix ALL ills in that niche.

Calm down. You're not writing a dictionary. The best way to create a digital product that sells well is to target one specific problem and provide a specific solution.

Need to lose weight? Here's a weight loss book with a 5-step plan.

Want to get build a chicken coop? Here's a manual with 50 chicken coop plans and instructions you can use today.

Specific problems and specific solutions. That's your secret to creating a digital product that's not only valuable, but doesn't overwhelm the reader either.


4. Create a customer avatar

Your digital product is not the bible. It's not supposed to be for everyone. You must create a product that addresses a specific type of person.

You'll need to construct a customer avatar before you start working on your product.

For example, if you're writing a weight loss book, is it going to be for women? How old will the reader be?

Is she going to be a stay-at-home mom or a busy career woman? Will she have a lot of time to exercise or will she need quick workouts that don't last for more than 20 minutes?

So many questions and so few answers. What do you do?

Simple. You hang out in forums where your target market congregates. Spend time reading their questions, issues, comments, etc. This will help you to understand their problems intimately and you'll have a finger on the pulse of your market.

Now you're ready to create a product that speaks to them better than their best friend could.


5. Structuring your content

This is the part where you create your product. It goes without saying that you should produce the best possible product that you can. Aim for excellence, NOT perfection.Your content should be broken down into bite-sized chunks.

Your entire book shouldn't be one long never-ending paragraph. It's better to have shorter, 'compartmentalized' chapters dedicated to specific topics.

If you're using video, it's ideal to break down a 1-hour long video into six manageable 10-minute videos. In our noisy world, so many people have the attention span of a housefly.

So, you want your content to be short enough to hold their attention, but long enough to give them the information they need.


6. Provide the content in different formats

Times have changed. PDFs alone are not enough. Some people prefer reading. Others prefer watching videos… and many like listening to audios.

This explains why even when you purchase a book on Amazon Kindle, there's usually an option to get the audiobook on Audible.

Provide your digital product in different formats (text, audio & videos) so that you capture as many customers as possible without inadvertently excluding any. Of course, you may choose to sell your audios and videos at a higher price.


7. Know your pricing

Last but not least, you'll need to price your product according to what the market is willing to pay. If you overprice it, you'll alienate most of your potential customers, and those who do buy it may feel like they've not gotten their money's worth because they expect a lot more.If you underprice it, you'll be devaluing your product and leaving money on the table.

It's best to look at what's currently selling well and jot down the prices. You can then charge a similar price and occasionally offer a discount to get more attention to your offer. Everyone loves a deal.

To conclude, once you have these 7 fundamentals in place and you have a great product to sell, you'll then need to market it well… but that's a whole different topic for another day. For now, get the product creation basics right and it'll be half the battle won.

(1,111 words)

End of free PLR article

Just copy and paste the self help PLR article content above if you would like to use it on your blog, email, reports.

You will find a good selection of pre-written Private Label License use content available in the PLR store for this niche.

~*~*~*~*~*~*~*~*~

Here is what you can do with this PLR article and meme/graphics:

[YES] This source file of contents:

* Can be used as content on your website or blog
* Can be used as content in published e-books and reports (sold with personal rights only)
* Can be used in an auto-responder series
* Can be Edited or Spun however you wish
* Can be used to produce video articles
* Can be published off-line
* Can have your name put on them
* Can be rewritten for submission to article directories

[NO] This source file of contents:

* Cannot be sold or given away with other PLR or any form of resale rights
* Cannot be added to a PLR or IM membership sites
* Cannot be submitted to article directories without substantial alteration

If you want to compile the articles into an e-book or report you can sell or give away your finished ebook, but you must only give personal use rights to your buyers.

In other words, you cannot pass on PLR or resale rights to these articles in any form.

The articles have been written around keyword phrases and the title of each article includes the keyword phrase.

If you are using the articles on your website it is a good idea to give each article a unique title.

Keep the keyword in the title, or if you decide to change the keyword, change it in the first and last sentences of the article too.

You can edit the articles for your website any way that you wish.

Any questions, comments, concerns or help needed, contact me using the email form at https://www.discoveryhub.net/contact-us.html


What's New?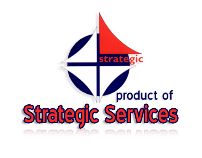 I'm sad to say that here in Victoria, Australia, the CV19 cases have spiked to close to 1,000 cases a day which is absolutely hideous.
Despite all our best efforts we are now in total lockdown, Level 4 restrictions, with 8pm - 5am curfew, and a maximum 5km travel restriction from our home.


Businesses are suffering, jobs are evaporating, stress is through the roof. We need to support each other as much as we can and try to be part of the solution instead of the problem.


I hope that you and your loved ones are untouched by CV19 and stay that way. I'm housebound, and so glad that I can tread water through this crisis financially, despite having my rental income evaporate a few months ago... tighten the belt and get creative about managing finances and purchasing.


My dad is OK in his aged care home, one of the few that have not been affected, and I hope it stays that way. After 7 months of being housebound we are all desperate to get back to normal lives again, but it looks like it will be December before we will get to see anything resembling 'normal'.


I'm scouring my garden and trying to recycle and repurpose everything possible to create as much planting space as I can for vegetables, and to boost my fruit trees and bushes.


At the moment the panic shopping is emptying supermarkets again, so I want to make sure that I have a decent amount of fresh salads at least to keep us going for Summer... I have a collection of seeds still in the box for tomato, lettuce, cucumber, peas, beans, as good staples to harvest, and a nice collection of other varieties including some melons etc. to grow some fun foods.


Becoming self-sufficient is more important than ever once again. Its such a good skill knowing how to cook, bake, sew, repair, make stuff, and grow your own foods.


My website is a self help superstore of all the DIY and how-to things you could ever want to know about, so do checkit out if you are want to learn how to do it for a project or three.


In the middle of all this I'm glad to say that I finally managed to create and upload four gorgeous new Junk Journal paperback signatures that you can buy from amazon.


I have so much fun creating the decorative craft paper artwork for the pages of these activity books!


The four new releases are: >> French Farm, >> Home Farm, >> By the Sea, and >> Nautical Notions. I'm just putting the finishing touches to Farmers Market, and then I'll create one for Barnyard Owls.


I'm so grateful for the lovely people who choose to get my books, it inspires me and motivates me to keep creating and working hard!


The signatures for junk journals are proving very popular with crafters, and there are now 10 themes in the crafting Junk Journal series.


The other new books are Vintage Circus and also a Vintage Gypsy themed signatures... deliciously boho in colour and designs.


My paperback books and planners are doing well and if you need a planner or journal, please do check these out:

These simple inspirational 365 Dated Page a Day Journal Planners with a famous quotes to the top of each page are proving to be very popular.

So, if you like to have a daily inspiration this book is for you. The pages can be used for long journals every day, or be split up into Line-a-day multi-year journal on each page.


And don't forget about my gorgeous Tarot Reading Journals in a whole series of different themes! You will find a design and theme that is perfect gift for everyone who loves this!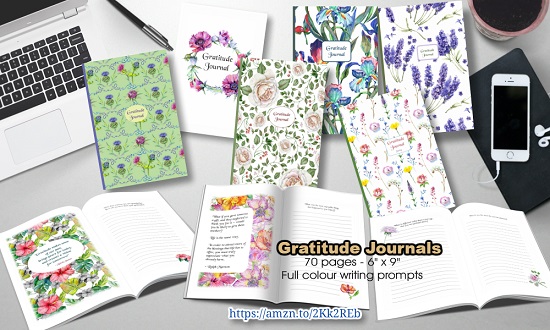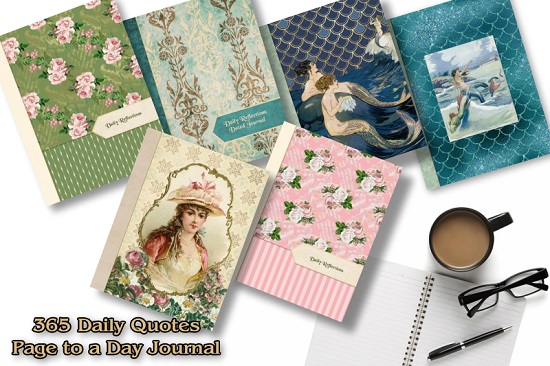 And once again, thank you so very, very much to everyone who has invested in one of my books... I really appreciate your trust, and know that you will love the book!

And p.s. Any reviews posted on Amazon and Lulu would be hugely appreciated as well!!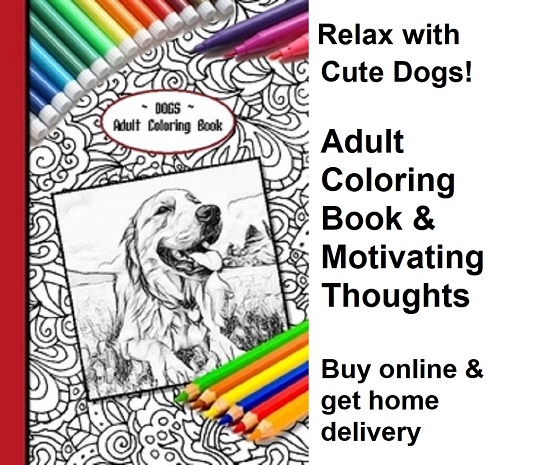 Do get yourself a beautiful and inspiring Diary or Planner. Yes, like one of the ones I have designed for you.
They work. They make you happy. Use them.
Click HERE
or on the banner images above, as I keep adding new designs every few days... and if you have the time, please do tell me what you would like to see included, so that I can meet your requirements!
And a reminder: "Power Tips" is here to help you learn and apply new self growth strategies. Are you getting benefit from these self growth reports? Most importantly: Will you USE what you are learning?
If you are, how about you tell your friends about "Power Tips" and share it around with your pals!
What topic would you like to read and learn about next? Let me know the topics you would find most helpful for me to publish Guides about!
I really appreciate you subscribing to this ezine, I hope you enjoy it, and I welcome your feedback about this ezine - Don't "reply" to this ezine... you can use this form to
Contact Me
May you always have Love to Share, Health to Spare, and Friends that Care!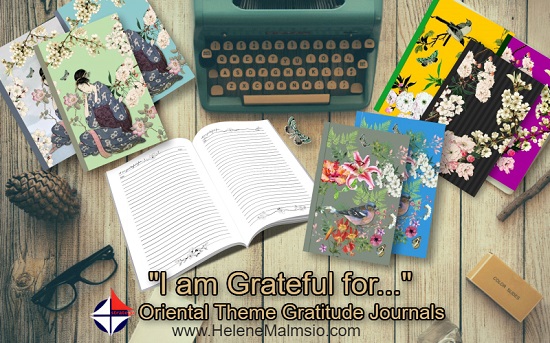 Have a Laugh!
::Classic Steven Wright wisdoms to Ponder::
1- I'd kill for a Nobel Peace Prize.


2- Borrow money from pessimists - they don't expect it back.


3- Half the people you know are below average.


4- 99% of lawyers give the rest a bad name.


5- 42.7% of all statistics are made up on the spot.


6- A conscience is what hurts when all your other parts feel so good.


7- A clear conscience is usually the sign of a bad memory.


8- If you want the rainbow, you gotta put up with the rain.


9- The early bird may get the worm, but the second mouse gets the cheese.


10- I almost had a psychic girlfriend, but she left me before we met.


11- OK, so what's the speed of dark?


2- How do you tell when you're out of invisible ink?


13- Depression is merely anger without enthusiasm.


14- When everything is coming your way, you're in the wrong lane.


15- Ambition is a poor excuse for not having the sense to be lazy.


16- If Barbie is so popular, why do you have to buy her friends?


17- Eagles may soar, but weasels don't get sucked into jet engines.


18- What happens if you get scared half to death twice?


19- My mechanic told me, "I couldn't repair your brakes, so I made your horn louder."


20- Why do psychics have to ask you for your name?


21- If at first you don't succeed, destroy all evidence that you tried.


22- A conclusion is the place where you got tired of thinking.


23- The problem with the gene pool is that there is no lifeguard.


24- Everyone has a photographic memory; some just don't have film.
Daily Self Reflection: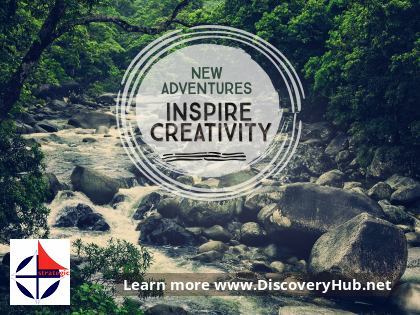 At DiscoveryHub.net we want to ensure that you have a remarkable experience on our website.
You may view the update in our privacy policy here.


Thank you for visiting our site and trusting us with your learning needs.


~*~*~*~*~*~*~*~*~

Thank you once again for joining us today, I hope that you have found some helpful self help tips and also found our free PLR article helpful to build quality relevant niche content on your online properties!

Helene Malmsio
Editor

www.discoveryhub.net

Published by: Strategic Publications (est. 1987)
Victoria
Australia

=================================

DISCLAIMER: All information is intended for your general knowledge only and is not a substitute for your counselor's advice or treatment. Use of these products and tips are at your own risk. We make no warranty, express or implied, regarding your individual results.

~~~~~~~~~~~~~~~~~~~~~~~~~~~~~~~

DISCLOSURE: I may be an affiliate for products that I recommend. If you purchase those items through my links I will earn a commission.

You will not pay more when buying a product through my link. In fact, I oftentimes am able to negotiate a lower rate (or bonuses) not available elsewhere.

Plus, when you order through my link, it helps me to continue to offer you lots of free stuff. :)

Thank you, in advance for your support!

No Liability

Under no circumstances will the product creator, programmer or any of the distributors of this product, or any distributors, be liable to any party for any direct, indirect, punitive, special, incidental, or other consequential damages arising directly or indirectly from the use of this product.

This product is provided "as is" and without warranties.

Use of this product indicates your acceptance of the "No Liability" policy.

If you do not agree with our "No Liability" policy, then you are not permitted to use or distribute this product (if applicable.)

Failure to read this notice in its entirety does not void your agreement to this policy should you decide to use this product.

Applicable law may not allow the limitation or exclusion of liability or incidental or consequential damages, so the above limitation or exclusion may not apply to you.

The liability for damages, regardless of the form of the action, shall not exceed the actual fee paid for the product.

Note: Articles in this ezine may concern health treatments and references to trademark brands.

I am not legally, medically or professionally qualified and like all of my products, these articles are supplied for entertainment purposes only.

Any claims that are made in your use of them and any consequences of your use of them are your own responsibility.

You are advised to take legal advice in relation to setting up disclaimers and other aspects of your business.

~~~~~~~~~~~~~~~~~~~~~~~~~~~~~~~

Unsubscribe ONLY if you want to stop receiving this ezine!

Instructions are below.

~~~~~~~~~~~~~~~~~~~~~~~~~~~~~~~