Avoiding The Pitfalls Of Affiliate Marketing
If one has does some research about internet marketing, the concept of becoming an affiliate should be quite familiar as it is touted as the "hands free" way to earn money.


While there are many advantages to affiliate marketing such as not having to deal with customer service, refunds, returns or all the hassles of running your own business, the flip side is you can usually only earn a fraction of what you could as being the product owner.
One has to weigh the advantages and disadvantages but with the search engine "bigwigs" highly discouraging affiliate marketing, it would be smart to consider ways to strengthen your position.
In this article we'll be discussing ways to avoid these pitfalls and what to do.
Build A Relationship With Your Affiliate Manager
As you improve your skills as an affiliate marketer, one of the avenues you more than likely will participate in is CPA (Cost Per Action) marketing due to the apparent simplicity in the method.
Drive some traffic to an offer that usually only requires an email or a few other bits of information which will lead to a small commission.
Managing your expenses is key to success with this model but most of all finding the best offers will make a huge difference.
This is where talking with your affiliate manager will be very helpful as they can direct you to what's working for others as well as give you a general idea on which creatives seem to be converting for other affiliates.
Not complete details but just enough to give you that edge and worth the investment in time.
Build A List
You've heard it time and time again, "The money is in the list" but for most new marketers, this may be a foreign concept.
Also, affiliate models such as the aforementioned CPA marketing don't lend itself well to list building.
So what is an affiliate supposed to do? First off, it's important to bank some commissions as soon as possible so concentrate first on that but as soon as possible, learn how to build landing pages or opt-in forms.
The faster you start to build a list, the safer your whole business becomes.
Yes, it is safer because with a list, you become insulated from the whims of the search engines as no algorithm can effect your list, especially if you learn to build a relationship by providing value to them.
Create Your Own Product
This might sound daunting but it won't be hard after you've been learning all about what your target market needs, which any successful affiliate marketer will do.
By listening to what are the complaints in forums around your topic plus feedback you can survey your list about, creating an information product focused on solving a problem will surely convert to sales.
If it is possible, building a more complete product and even a membership website would be the ultimate goal.
As one can see, affiliate marketing can be highly rewarding if approached correctly with no limits on the upside, especially if you implement the steps mentioned above.
You can learn the basics here in my onsite free guide for
How to do affiliate marketing
, and I have also published a book that covers the most effective and most simple affiliate marketing plan, to make sure you have the best chance of being a success in Affiliate Marketing and Blogging
Get the "Affiliate Marketing - Simple System" Guide Book - on sale!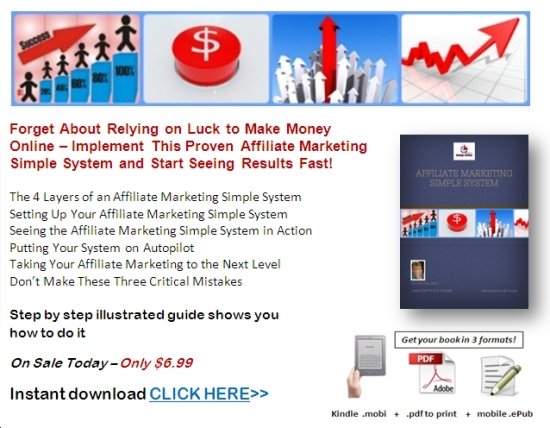 Affiliate Marketing
Tips



Affiliate marketing is something that is changing the landscape of how people are able to earn a full-time living.

Instead of having to apply for a second job in order to make ends meet, many people are coming up with unique ways to do affiliate programs, and affiliate marketing, that can help them supplement their income.

The problem is that most people have no idea where to begin or what programs would be most beneficial for them in the long run.

In this article, we will tell you a few affiliate tips that you should know in order to be a success with your marketing online or off-line.

When you join an affiliate program, you really need to be part of one that provides you with all of the tools that you will need in order to be a success.

Profitable companies know that if you give people the tools necessary to succeed, this will inevitably help them as well in the long run.

The tools that they should provide you with include proper training, tutorials in PDF format, videos to market with, articles, spinnable articles, and emails that you can use with an autoresponder in order to generate traffic.

The more that you receive, and the more instructions that you are given, the easier it will be to be a success with any affiliate program that you choose to promote.

Next, you have to look at the track record for the products that you were going to market.

In many cases, they will provide statistical data that will show you exactly which programs are selling the best, and give you at least a general idea of what type of marketing will generate the best results.

As long as you have this information at your fingertips, you will be able to start a promotional campaign that will be profitable from the get-go.

However, if the track record of an affiliate program is not very good, or there is not enough data to go on, you should probably find a different affiliate program to try, one that has exceptional and proven results.

Finally, if you want to be an affiliate marketer that is actually making a good living on the Internet, you might want to think about branching out to off-line marketing.

This entails visiting businesses that may find what you are offering to be beneficial for their own business. This could be anything from Web hosting to domain names.

As long as it is business oriented, and it helps them make more money, they will certainly work with you and buy your products or services if their bottom line is going to increase.

The best way to succeed with any type of affiliate marketing is to truly know your audience.

If you know who wants to buy what you have to offer, and you can present this to them in a way that makes them want to own it for themselves, you'll be on your way to online riches in no time at all.

Just make sure you have all of the marketing materials that you need, and that the affiliate program that you are going to market has been successful in the past.

Armed with this information, and the strategies that we have provided, you should find your first venture into affiliate marketing something of a success.

P.S. Liked this post? Be a sharer and spread the word on FaceBook or Twitter or G+.

And I'd love to hear your views or suggestions too! Just click the Comments link below and tell us your story - Thanks!