How To Train Your Dog Not To Bark and Other Bad Habits
This free online guide gives you tips for how to train your dog not to bark and how to stop other bad dog habits like jumping on people, begging for treats, destroying your stuff, and to curb your dog from playing rough.
Dogs are a wonderful addition to the family, but like any family member, a dog can have some pretty annoying habits.
If you don't step in and get those habits under control, you can end up with a dog whose behavior is out of control.

What's cute when your dog is a small puppy can become a nuisance - and even risky - when he's an adult.
When puppy jumps up on visitors, it might seem cute at the time when they are still so small and harmless.

But when you add 100 or more pounds to that little puppy, he'll have the strength and body weight to injure your family members or guests - and you don't want that.
A dog like a Boxer or Labrador can easily knock you over when they rush up to you enthusiastically and leap up at you.

The five most common annoying dog habits are dog barking, jumping up on people, tearing up things, rough play and begging, so we will discuss them here.

The good news is that there are many simple ways that you can successfully prevent or stop each of these bad behavior habits in your dog.

How to stop dog barking

Dogs make great early warning systems.
If anyone comes around your house, a dog can alert you that someone is there before that person even reaches your door.
So for safety and security, nothing can beat having a furry member of the family around.

There are times when you want your dog to bark.
If there's something going on outside your home, your dog alerts you by barking.
This is his way of taking care of you and protecting you. Your dog can see and hear what you often don't.

The wrong response on your behalf is if you ignore the barking or tell the dog to be quiet.
He's trying to tell you that he senses something isn't right.
So what you need to do when your dog is alerting toward a door or window is to find out why he's barking.

If there is something going on and he barked for that reason, you don't want him to be quiet.
Instead, you want to reassure him that he did the right thing.
Tell him, "Good dog" and then have him go away from the alert point and sit or lie down.

The kind of barking that can become an annoying habit is when a dog barks for what seems to you to be no reason.
Dogs always have a reason, but not all barking is necessary.
For the same reason that humans eat when they're not hungry, dogs will bark when nothing is going on.

They'll bark because they're excited, bored or in response to other dogs barking.
It's their pack mentality that causes that - even though they may not be in a pack at this time.

If your dog barks because he's excited, calm him down - and if he barks because he's bored, it's a sign that he needs more physical action.
You want to make sure that your dog gets plenty of exercise as well as social time with other dogs.

Never reward barking with activities that your dog likes - such as by taking your dog for a walk or giving him a treat.
He'll learn that if he's not quiet, he gets a walk or a treat and you don't want him to train you!

When you return home after being gone, your dog will often bark in short bursts because he's glad you're home.
That's simply his way of telling you that.
He needs to be patted and reassured and he should stop barking once he's finished greeting you.

When your dog engages in incessant barking, you want to gently close your dog's mouth and say a firm, "Quiet" or another command associated with him not barking.
You want to use one word commands because dogs understand one word commands better than they do an entire string of words.

If, when you move your hand away from your dog's muzzle, he begins to bark again, you'll want to repeat your action of closing his muzzle and giving him the 'Quiet' command.

You can get your dog used to the quiet command by rewarding him when he does obey the command.
This can be a verbal 'Good boy' or a treat.
Some pet owners use anti-barking collars or products that will emit a loud, startling sound when the dog barks.

Most dogs can be easily trained to be quiet with just a command.
If your dog just doesn't seem to grasp the concept of barking only when necessary, you may need to enroll him in an obedience class.
There are also some very useful products and gadgets that can help you to train your dog to stop barking, and I'll feature some of them below.

train your dog not to bark With Spray Anti Bark Collars

NO BARK Collar Citronella Spray Anti-Bark collar for Dogs Kit - Safe, Effective, and Humane Dog Barking Control collar
Bark Solution Bark Dog Collar Training System, Electric No Bark Shock Control with 7 Adjustable Sensitivity Control with Manual
PetSafe Citronella Spray Can Refill
Anti-Bark Collar - Shock Collar For Dogs with Bark Control Collar Vibration - Dog Shock Collar Uses Feedback & Adjustable Sensitivity - No Bark Collar For Small Dog & Large Dog - Best Dog Bark Collar
PetSafe Elite Spray Bark Collar for Little Dogs
[BEST VERSION] Dog Training Anti Bark Collar Humane With Remote Harmless Control No Harm Vibration Reduce Barking Shock Controller Waterproof Rechargeable Pet Trainer Large & Small Dogs FREE Led Clip
NEW Citronella No Bark Gental Spray, Humane No Shock Collar, Stop barking, Anti-bark with Advanced Bark Detection (Small, Medium, Large Dogs), By Downtown Pet Supply
You can also learn more here specifically about
Citronella Anti Bark Spray Collar
Stop Your Dog Jumping Up on People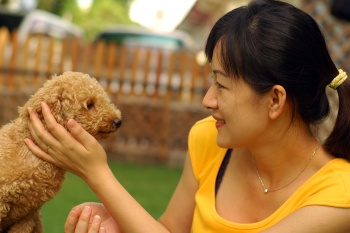 When your dog jumps up on people, it can be a problem.
Most people don't enjoy a dog jumping up on them and a large dog can knock a child down.
You want to start training your dog that this kind of behavior is not rewarded.

When your dog attempts to jump up on you, refuse to look at him.
The minute you make eye contact, he realizes that he's got your attention and so he knows that if wants your attention, all he has to do is jump on you.

Besides not looking at him, you don't want to give him any verbal communication.
Don't laugh and don't raise your voice. Don't give him any verbal commands at all.
You want to ignore him until he settles down.

Don't engage the dog by touching him, either.
Don't push him off of you - and if he jumps up on others, don't rush over to pull him off.
He knows then that this kind of behavior will get you to come and interact with him.

Don't rub or pet him when he jumps up. Keep both verbal and physical contact non-existent.
Some people will raise their knee when a dog jumps, believing that this teaches a dog not to jump up - but it doesn't.

All this does is show the dog that if he wants your attention, all he has to do is jump on you.
He actually sees the knee up as interaction and encouragement because you're giving him attention.

This becomes a problem because if you give the dog attention, he quickly learns to repeat his actions.
You have to stand completely still and give him attention only when he's sitting or standing before you.

The minute that your dog is standing or sitting before you, quickly give him a treat.
He'll learn to associate sitting and standing still with getting the treat. Be enthusiastic in your praise when the dog obeys.

NEW No Jump Dog Harness, Anti Jump Pet Harness, Stop Jumping, Training Harness for Dogs, by Downtown Pet Supply
No Jump Dog Harness, Anti Jump Pet Harness, Stop Jumping Training Harness for dogs, by Downtown Pet Supply
Hoont? Electronic Dog Repellent and Trainer with Flashlight / Powerful Ultrasonic Dog Deterrent and Bark Stopper + Dog Trainer Device / Protect Yourself + Train Your Dog [NEW POWERFUL VERSION]
[NEW UPDATE] K9konnection 330 Yards Rechargeable Remote Dog Training Shock Collar with Beep, Vibration, & Electric Static | Rainproof E-Collar for Small, Medium & Large Dogs | Effective Bark Solution
Is Your Dog Tearing Up Things in Your Home?

Just like human babies, puppies are going to explore.
They're going to put things in their mouth and dig into things.
They're going to want to snatch things and run.
Dogs have been known to destroy furniture, toys, shoes and even chew on the ends of a corner wall.

If this behavior isn't corrected, it will get worse. 
Just as babies are taught the right and wrong way to act, all dogs - puppies or not - have to be taught what's acceptable and what isn't.

Tearing up things in your home can get expensive, depending on what the dog tears up, and it can be dangerous for him.
You can take away your dog's odds of tearing something up by pet-proofing your home.

Dogs will tear up anything when they're bored or lonely or dealing with separation anxiety.
Put away things that dogs are normally attracted to tearing up - such as shoes and pillows.

Keep any stuffed animals out of sight when you're not home because dogs often mistake stuffed animals for chew toys.
Give your dog items that he is allowed to chew on - such as dog toys and dog teething rings.
If your dog is teething, giving him a dog teething ring that's been chilled will him not chew on things he shouldn't chew on.

Dogs will repeat behavior when there are no consequences to their actions.
If they chew on the end of the sofa and you laugh or simply replace the sofa, it gets reinforced to the dog that his actions were okay.

When a dog does destroy something and you fuss at him after you discover it, your dog doesn't understand what he's done.
He understands only when you interrupt him in the middle of tearing something up.

Firmly say, "No!" and then gently remove him from the item.
You want to be gentle, but you don't want to engage or pet the dog when he's in the middle of tearing something up.

He'll associate that action with your petting him or giving him attention.
When there are no consequences, dogs will keep going back - such as chewing on the same piece of furniture.

There are some natural repellants that you can buy at the pet store.
You can spray down the part of the furniture where he's been chewing with this repellant.
The spray won't hurt him, but what it does is give him a nasty taste, like he's bitten into something very bitter.

He quickly learns that the furniture doesn't taste good.
To head off the issue of chewing on furniture, some pet owners spray the edges of the furniture down ahead of time with repellant.

Make sure that you're keeping your dog active - because many dogs will tear things up because they have a lot of energy that isn't being released through enough exercise.

Dog Behaviour: Dealing with dog behaviour problems
Why Dogs Do That: A Collection of Curious Canine Behaviors
Dog Behavior Book: Everything You Need to Know to Correct Dog Behavioral Problems
Dogs: Expert veterinary advice on canine health, training and behaviour
PET PROBLEMS: How to Deal with Your Dog Behavior and Practical Tips on Training Pets (pet problem, pet smells)
The Dog's Mind: Understanding Your Dog's Behavior (Howell reference books)
WHY DOES MY DOG...WHY DOGS: The Ultimate Guide To Understand Your Dog's Behaviour & Raise a Healthy Dog (1)
Don't Let The Kids and Dog Do Too Much Rough Play!



When dogs engage in rough play, without meaning to, they can harm themselves, other pets and even people.
That's why rough play should always be stopped.

Dogs are fast learners and pick up behaviors from other dogs - and people, too.
If your dog does play too rough, it's either because he's caught up in the playing, he thinks it's okay because he's been allowed to play rough, or because the dog is asserting an alpha side.

When the dog begins to play rough, the play needs to end immediately.
Remove the dog from the play or take away the object he's playing with.
When a dog gets caught up in playing, he's too focused on the playing to understand that his actions could quickly cause him to be too aggressive.

If your dog begins to assert his alpha side, the play can escalate into serious biting as he attempts to subdue the other pet or person he's playing with.
Signs that your dog is playing too rough include his body language changing from relaxed to stiff and unyielding.

He'll often stare in aggression and he'll growl in a deeper growl than he normally uses.
Play growling is a growling that he does that lasts longer than it usually does.

When your dog is playing with other pets, keep an eye out for signs that he's playing too rough and stop him immediately.
Don't allow your pet to be aggressive with other dogs or people.

Let him calm down from the play before you engage with him.
Never allow your dog to ever play like he's biting you.
Most people will put out and arm and let a puppy or small dog bite on their arm.

When the dog gets bigger and older, he's learned that this is okay and doesn't realize that his tiny jaws and teeth are now a lot stronger and sharper.
Instead of letting the dog bite on you, encourage him to bite dog toys.

When your dog is playing to rough, like a child that's engaged in inappropriate play, your dog needs a time out.
It's easy for dogs to get riled up when they're playing - especially if they have some energy to work off.

Make sure your dog has a way of letting off some of that stored up energy before he starts playing.
Take him for a walk or let him run around in the yard and chase a ball.

Prevent Annoying Dog Begging Behaviour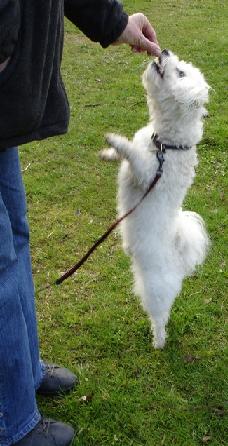 Dogs beg only because at some point, someone rewarded that behavior.
Don't start the habit of allowing your dog to beg while you eat and it won't become a problem.

You don't want your dog to learn to beg and you don't want to give in because not only does it establish the foundation for future begging, but people food isn't healthy for your dog.

If your dog has an established begging habit, you can stop it by not allowing him in the same room with you while you're eating.
Let him stay in another room or in his crate whenever you're having a meal or a snack.

Teach him to go when you're eating.
Train him that when you're eating, he must be lying down in another room or on his dog bed.
You can train him that it's time for him to rest in his crate with the door open and if that doesn't work, you can confine him to the crate during meals.

Never allow a dog to sit and stare at you or your guests whenever you're eating.
With their big eyes and sad faces, dogs can tempt even the strongest pet owner into giving in just this once.

When your dog does beg or whine or bark to get a bite of what you're eating or cooking, you have to ignore the dog.
The best way to train a dog and stop bad behavior is to be consistent.

You can train him that when it's time for you to eat, it's time for him to eat.
Your dog will learn to associate mealtime with his comfort and he'll look forward to his food rather than yours.

Some pet owners choose to block access to the room where meals are held by putting a baby gate up across the doorway.
By being a consistent pet owner with training your dog, you can establish boundaries for your pet that will keep him safe and healthy and prevent him from developing annoying habits.

Tips for Potty Training Your Dog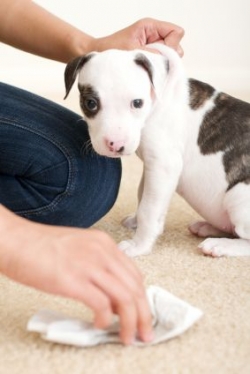 There are very few dogs that can't be housetrained or potty trained - just poor pet owners who don't understand the value of consistency.
You're the most important element in successful housetraining for a puppy or adult dog that's new in your home.

The dog is looking to you to set boundaries and rules, while also showing that he's welcome in your world. 
Potty training might take a few days - or it might take months - each dog is different.

It takes at least several weeks or a few months to establish housetraining with a puppy.
Some owners say that puppies are easier to train, since they have no negative experiences to counteract.

Other owners insist that an older dog is easier to train because they have better developed bladders, can wait longer between breaks and know something about housetraining.
It doesn't matter which is right or wrong, it's only about dealing with the dog you have in the most positive way so that you're teaching a good lesson, not instilling fear.

The old method of housebreaking was punishment centered - hitting a puppy with rolled up paper to make him stop having accidents and then punishing him again because he urinated on the floor instead of the newspaper.

Needless to say, it rarely got the desired behavior.
Positive reinforcement shows the puppy exactly what you want him to do by rewarding the puppy potty training behavior with praise and affection.

These are far more powerful motivators for your dog than punishment. 
If your dog senses that you're going to be home soon, he will make every effort to wait for the potty break.

But if you're home on time one day, late the next and later the following day, then your dog is smart enough to give up and go when he has to.
That's not his choice - particularly if he's in a crate because he dislikes combining his potty with his personal space.

Losing that consistency will cause him to give up and go against his instinct to potty in separate place. 
Housetraining takes time, so you need to be prepared to schedule yourself for this task until it's complete.

That's going to interrupt your schedule and cause you to watch the clock.
If you'll make this sacrifice for the weeks needed to train your dog, then you'll be done with the process completely.

This is a small price to pay for a housetrained, well-adjusted dog that will live comfortably in your home for many years.
At the end of the training period, you aren't a screaming wreck and your dog isn't cowering under furniture at the sound of your voice.
Effective training builds a lasting bond with your dog.
You can learn more here in our guide with dog potty training tips

PETMAKER The Indoor Restroom Puppy Potty Trainer for Pets, Medium
Potty Bells Housetraining Dog Doorbells for Potty Training and Housebreaking Your Doggy. 1.4 Inch Dog Bell with Doggie Doorbell Instructional Guide to Easily Train Your Pet
IRIS Training Pad Holder, Regular
Simple Solution Puppy Aid Training Spray - 16 oz spray
Fresh Patch Disposable Dog Potty with REAL Grass - As Seen on SHARK TANK
Coastal Pet - Coastal Potty Training Dog Bell, Color: Black
Can You Offer Your Dog an Active Lifestyle?
When bringing a dog into your home, you must consider the activity level that the dog needs to be physically and emotionally healthy.
Some lazy adults think that if they only had a dog who needed walking twice daily, then they would get the exercise they've so carefully avoided for so many years.

Lazy people are not likely to change their habits enough to make a good fit between them and active dogs.
It's the dog that will suffer as the lazy owner slacks off on walking and the dog fails to get what he needs in regular outdoor time.

The amount of daily activity that a dog needs is not the same as exercise.
Every dog needs time each day to walk, run, jump and unwind.
That may come with a walk on the leash to the park or around the block.

A dog that lives in a home with a fenced yard can enjoy free running and playing without the constraints of a leash.
Older adults who have their own problems with mobility limitations need to choose a dog that requires less daily activity.

People who enjoy spending time outdoors for recreation or to unwind after a day at work are ideal owners for active dogs.
Both owner and dog look forward to the end of the day, when they can play chase in the park or go for a run together.

Larger dogs tend to be more physically active. Among those are dogs whose heritage includes being working or hunting dogs.
They have an innate desire to be busy and work off energy.
Dogs such as Irish Setter, Doberman, Beagle, German Shepherd and Greyhound are built for movement and agility, so they naturally desire daily exercise.

Size can fool you as the extremely large dogs like the St. Bernard and Bull Mastiff, who can easily outweigh their owners, are low activity dogs.
Even though you see the St. Bernard in movies rescuing the lost skier, what you miss is the rest of the time when the dog is sleeping in front of the fireplace.

Small dogs like Poodles, Pekinese and Chihuahuas can live in small spaces and forgo the daily long walk in the park, but their high-strung temperaments cause them to be high in activity around the house.

Granted, their activity may be running aimlessly around the room, jumping on your guests or bouncing on you, but they do calm down when the energy burst is spent.
That's the point where the little dogs crawl back on your lap or on their plush pillow for a well-deserved nap to recharge.

There may seem like so much to know before buying a dog - and there is!
By taking time to make a profile of the dog that best fits your living space, personality, and personal activity level, you'll have a better match for a lasting relationship.
KONG Squeezz Ball Dog Toy, Medium, Colors Vary
Toy Ball for Dogs [Dental Treat][Bite Resistant] Jakpopin Indestructible Non-Toxic Strong Tooth Cleaning Dog Toy Balls for Pet Training/Playing/Chewing,Soft Rubber,Bouncy,Tennis Ball Size 2.5 In,Mint
KONG Cozie Marvin the Moose, Medium Dog Toy, Brown
Ethical Mini Skinneeez Raccoon 14-Inch Stuffingless Dog Toy
OurPets Smarter Toys Interactive IQ Treat Ball Dog Toy, 4 Inches (Colors may vary)
Outward Hound Kyjen 31011 Hide-A-Squirrel Squeak Toy Dog Toys 4-Piece, Large, Brown
KONG Air Dog Squeakair Birthday Balls Dog Toy, Medium, Colors Vary (3 Balls)
BazooK-9 Tennis Ball Launcher Gun - Rated Best Dog Toy - Includes 2 Squeaky Balls for a Bazooka Semi Automatic Blast
TRIXIE Pet Products Flip Board, Level 2
Company of Animals Nina Ottosson Dog Brick Interactive Game
Outward Hound Kyjen 41004 Paw Hide Treat Toy Dog Toys Scent Puzzle Training Toy, Large, Blue
Don't Get a Dog with a Poor Disposition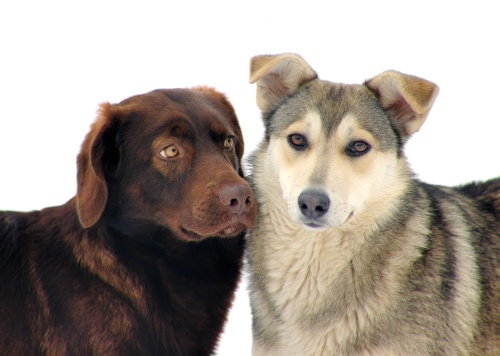 Each dog breed is known for certain basic characteristics - including temperament.
As a result, you can rely on this information to help you choose a dog whose attitude and disposition match your own.

Some smaller dogs are known to be feisty and noisy, while some larger dogs are quiet and tranquil.
One thing you need to know up front is that you're not going to get a dog to go contrary to his inherent instincts.
So if you like the look of a certain breed, be prepared to live with the temperament of that breed once you take it home.

What kind of dog has an awful disposition? Answer?
None if you're well matched to the dog!
Behaviors that are irritating to one dog owner are no big deal to another.
A person who's hyperactive won't mind a nippy miniature Poodle or Chihuahua that's just as hyperactive as they are. 
A quiet, studious person needs to have a calm, patient dog like the good natured, faithful Basset Hound.

Some dogs are considered by breeders to be difficult to train - such as the Lhasa Apso, Pekingese, Dalmatian, Irish Setter and Bull Terrier. Not all dogs are man's best friends.
Some are fiercely independent and care little about their owners.

These unsociable dog breeds can include Bull Terrier, Bull Mastiff, Doberman, Irish Terrier, Wire Haired Fox Terrier and Rottweiler.
The unsociable dogs can be alert, independent, aggressive and good as watchdogs, but they're sometimes not optimal for training.

In other cases, the dog breed may have potential for training but the personality of the individual dog is more reluctant.
Or that dog may have had a bad experience at the pet store from unkind or unskilled caregivers.

The dog is reacting tough to mask his fear of being harmed or neglected based on old memories.
If that's your dog's experience, then you have to take more time to reassure him that you're trustworthy and will never harm him as a means of punishment during training.

Withholding a dog treat when the dog walks poorly on a leash is reasonable.
Taking away his dinner is cruel and only teaches the dog to resent you and defy you as the only means of expression he has toward maltreatment.

Other times, there's no apparent reason for the dog's odd behavior.
Becoming a dog owner doesn't come with guarantees.
Sometimes you have a dog that is difficult to engage and you must either care for that dog or see that he has a proper home.
If you think your dog is just bored and needs more stimulation, try an auto ball launcher that can keep tossing balls for him to retrieve for hours on end.

iFetch (Small) Interactive Ball Thrower for Dogs- Launches Mini Tennis Balls
PetSafe Automatic Ball Launcher
YOGADOG Electronic Cat Toys, Magic LED Ball, Auto Move Interactive Pet Toy
Linka 1 Pcs Large Big-11.5cm Diameter -Blue Pet Dog IQ Treat Ball Training Toys with Quack Sound Dispenser Slim Cat Meal Dispensing Ball
Zany Bunch Zany Ball - Wiggling, Jiggling, Electronic Dog Toy
The The Foobler Timed, Self Reloading Puzzle Feeder ball toy for Dogs
Should You Join a Dog Agility Training Class?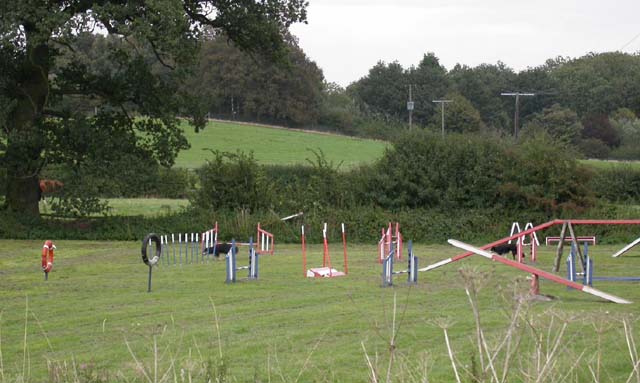 One solution you could consider for your dog if it has an abundance of energy and no way to burn it, leading to bad behaviour, is to help it burn off that energy and learn new skills with agility training,

A dog agility training class brings the sport to the dog as a fun activity, rather than a forced chore. 
It doesn't matter if you want to teach your dog agility as an extra-curricular activity or you're planning to go to masters' level at the United States Dog Agility Association.

Dog agility training has been practiced more than a decade in the United States. 
In England, it's been practiced even longer thanks to a spark of imagination stemming from equestrian jumpers.

A dog agility training class can give you insight into the world of obstacles, scoring, and performance. 
You'll get a lot of satisfaction if you know your dog is enthusiastic about its agility training.

When you join an agility training class, your dog learns how to race against the clock and the camaraderie and competitiveness contributes to the animal's performance. 
Some classes will be more competitive than others, so you may want to scout out the best atmosphere for you and your pet.

Dogs often love attending a dog agility training class. 
They're given the opportunity to work in a new environment with ramps, jumps, poles, and tires that are often colorful and inviting.

To be a part of a dog agility training class, most groups will require that you've previously attended and completed an obedience class for your dog. 
And many will ban your pet from participation if it's an aggressive animal.

Usually, a dog agility class will run about one hour once a week fie a course of six weeks. 
Classes begin with warm-ups and playtime to get the dog acclimated to its surroundings. 

Then the training kicks in when the handlers get the attention of their dog  
The class may cover things such as jumps, with beginners using smaller ones than advanced agility dog training participants.

Classes are fun for the owners, but he or she must realize that it often involves the handler showing the dog what to do before the dog will comply. 
And you may need to bring treats as a form of reward until the dog is able to follow commands on queue.

Outward Hound Kyjen 41003 Zip Zoom Indoor Dog Agility Starter Kit with Dog Tunnel Weave Pole High Jump Obstacles, Large, Multicolor
HDP 18 Ft Dog Agility Training Open Tunnel
Outward Hound Kyjen 42003 Zip & Zoom Outdoor Agility Kit 3 Obstacle Dog Agility Kit with Dog Tunnel Weave Pole High Jump, Large, Multicolor
Cool Runners Tunnel Hugging Non Constricting Dog Agility Tunnel Bag Set
Dog Agility Equipment Construction Instructions: YOU CAN! Build Better Training Obstacles for your Dog
Namsan Dog Outdoor Games,pet Training Jump Hoop, Dog Agility Starter Equipment
Important!
By being a consistent pet owner with training your dog, you can establish boundaries for your pet that will keep him safe and healthy and prevent him from developing annoying habits.
Dogs With Bad Habits Are a Reflection of Their Owners

How often do you hear an owner shout, "Bad dog" when what really needs to be said is "Bad handler?" 
It's irritating to be walking down the sidewalk in your own neighborhood only to have a dog jump up on your clean clothes.

Or your new neighbor has a huge dog that likes to leave piles of "calling cards" in your front yard. Are these bad dogs?
These dogs are not anymore bad than the neighbor's out of control kids.
Why blame the dog (or the kids) when the adult who's supposed to be in charge isn't acting responsible?

Dogs need to be given limits for behavior inside the home, outside the home and while walking in public places.
Inexperienced dog owners would be smart to find a dog trainer who can teach them how to properly handle the dog without breaking its spirit.

You could ask at the vet's office or local pet stores for names of dog trainers who hold private or group sessions with the dog and owner, or you could instantly access an online course and nip dog behavioral problem in the bud right away.

Part of this training is to teach the owner how to handle the dog.
At times, dog trainers will admit it's easier to train the dog than the owner! 
Dogs that must be leash trained for walking in public or at the park need practice, which begins around the yard or in a smaller location.

Barking is a behavior that distresses owners and neighbors.
Shouting or punishing the dog for engaging in normal dog communication (barking) is counterproductive - as well as confusing to the dog.

Often, dogs bark because they lack attention or need food and water.  
A barking dog can also be a strong deterrent to burglars, so completely suppressing the dog's bark might not be in your best interest. 
Be careful not to laugh and playfully encourage a puppy to bark and then get angry at him months later when he barks louder as an adult dog.  

Dog trainers can also teach you how to reinforce the behaviors that you want with both praise and treats.
You need to know how to reward the dog so that he gets the correct message and repeats the desired behavior or ceases the less desirable behavior.

Most importantly, don't expect a dog to learn a behavior that's contradictory to his breed.
If you want a certain behavior, then get a dog that can give you want you expect. Good dogs are developed by patience, persistence and kindness.

Continue to Research - More Resources

Here are some products you can buy online that I think look very useful:

PetSafe Outdoor Ultrasonic Bark Deterrent$38.00
Pet Parade Dog Repeller and Training Aid$3.13
Petsafe Premier GentleSpray Citronella Anti-Bark Dog Collar$33.98
14 Days to a Well-Behaved Dog$8.99
101 Dog Tricks: Step by Step Activities to Engage, Challenge, and Bond with Your Dog$10.36
How to Raise the Perfect Dog: Through Puppyhood and Beyond$7.50
Imagine Life with a Well-Behaved Dog: A 3-Step Positive Dog-Training Program$9.29
Cesar's Way: The Natural, Everyday Guide to Understanding and Correcting Common Dog Problems$6.72
Dog Training For Dummies$10.00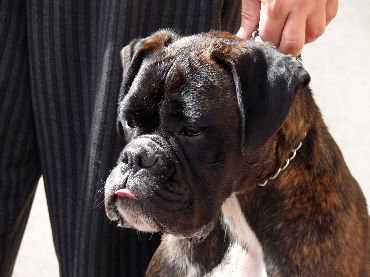 Below here I'm featuring more pages with helpful how-to-do-it  tips on this subject. 
Feel free to submit your own story or article about it, and I will create your own page here with your contribution for the community to read.

More Tips for How To Do It Yourself: Pet Care
Do you have a Pet Care tip you want to contribute here? Share it!
Read the latest updates & rest of the how-to tips here:
Click the Title links below to see the latest how to do it tips and contributions to this page...


"Power Tips" magazine is back!
You Get A Free Complete Self Help Report delivered to your email box every edition, plus you get a free PLR article and other great gifts!

SUBSCRIBE BELOW ...  I promise you will want to USE what you learn!
I really want to know what you think of this site, this page, and to hear your tips or suggestions about it.
So please share your story or simply add a Comment in the comment box.
If you feel that the information on this page has been useful to you please give it a Like or share it with your friends - thanks!!

"You are a life Saver!!
I recently discovered this site and I can tell you that my life has not been the same. I now come here EVERYDAY and spend at least 1 hour.
I used to spend that time browsing online fashion and beauty magazine which just means that I spend more. Now I have replaced that habit with coming here.

In future I will think about contributing articles as well. Thank you! Thank you!! Thank you!!! and God bless"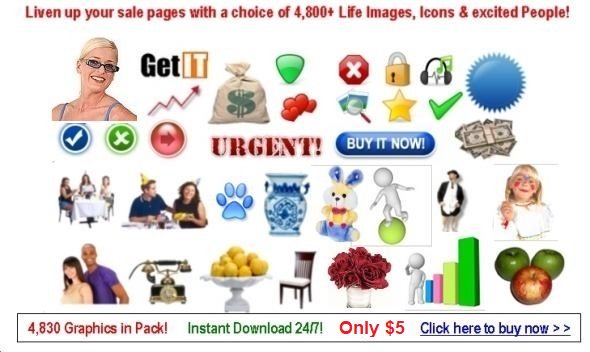 Contact Us | About Us | Terms of Use | Privacy Policy | FAQ | Testimonials

Amazon and the Amazon logo are trademarks of Amazon.com, Inc. or its affiliates. As an Amazon Associate I earn from qualifying purchases. Product prices and availability are accurate as of the date/time indicated and are subject to change. Any price and availability information displayed on [relevant Amazon Site(s), as applicable] at the time of purchase will apply to the purchase of this product.
Back to HOME PAGE of this how to train your dog not to bark section of the site.