How To Groom Your Dog | Dog Grooming Guide
One of the big responsibilities of being an owner is learning how to groom your dog so that it stays clean and healthy.
Dog grooming is as important as managing your dog's diet to ensure future health and well-being.
Exercise is also an important part of your dog's grooming procedures.
Making sure that your doggie is properly exercised ensures that he has a healthy immune system and that excess fat doesn't cause serious health problems.

Keeping your best friend and companion free from tangles, clean skin from bathing on a regular basis and performing the other dog grooming tasks that keeps you pooch healthy and beautiful will help you enjoy your dog and keep him by your side for many years to come.

There are many things you can do that go towards the overall health and well being of your dog and knowing how to groom your dog properly should be very high up on your list. 
Many dog owners believe that it is as simple as buying a dog brush and then using it once once a year. 
There really is a lot more to it than that if you want to do it properly and ensure your best friend has the ultimate care.

Dog Grooming parlours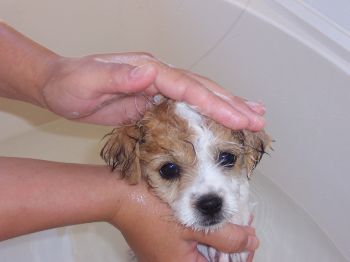 The first time I realized this was when I took my dog to a grooming parlor. 
A friend of mine had told me that was what he did and so I brought mine along. 
I have to admit I felt a little shocked and a whole lot more embarrassed when I saw the various things the person at the grooming parlor actually produced in preparation for grooming my dog. 
There was an array of grooming shears and clippers, scissors, combs, brushes, teeth sprays, nail clippers, eye cleaners, ear cleansers, toothbrush, cotton balls, a towel and other things that I can't even remember.

Mind you when I got the grooming bill I realized why I had always done it at home.
It was then I went online and bought quite a few of the products to help me properly groom my dog. 
The initial investment wasn't that large and I knew I would have these for some time to come.

Depending on the type of dog you have will depend on the type of brush you need.  I usually start with a human plastic wide tooth brush and simply brush the dog's coat out first. 
If hair is matted or tangled, comb that out and I use a detangling spray that you can buy online.  I only cut it out in extreme circumstances like chewing gum.
Always remember to give your dog small treats as rewards along the way for standing still. 
You will remember as a child how much you disliked having your hair combed and dogs are not much different. 
So, comb your dog out first and then brush it from the neck, alone the body and out to the tail. 
Don't forget to do under the body as well.  I brush my dog often and this helps the dog get used to the brushing and for the grooming I now do a little at a time. 
Dogs are highly susceptible to picking up fleas and ticks and daily brushing will prevent that, along with some flea powder or spray.

I brush my dog's teeth up to every week or so and don't use human toothpaste.  I do the fur trimming around the ears, eyes and genitals once a month.
I bath my dog a couple of times a year and again remember to only use pet shampoo and conditioners.
I clip the nails about once a month as well.  The eyes and ears need cleaning too and there are products available to do that.

Health and safety should be at the forefront of your mind.  Your dog needs to be calm and you need to train them to do that and relax. 
Dogs will slip in a bath and get anxious so line it with an old towel and then put the water in.  Even better is the rubber non-slip mats you can buy for benchtops and car boots... and I also found a plastic draining 'mat' that I can put on the bottom that his claws can grip into and he feels secure and safe in the tub ow.

Talk to them and reward them as you go. Keep some scmackos or other favourite treats nearby to reward them for staying calm.

Never ever poke at ears and eyes but clean around them for best care, and don't get the ears wet inside, and keep all cleansers away from the eyes. 
Mop up frequently with a couple of spare face washers to keep the face and ears as dry as possible when you bathe your dog.

Finally towel dry your dog and if they have long hair use a hair drier at a warm LOW setting, not hot temperature, brushing the hair in the direction you would like it to sit.
I hope this has helped you to understand the best way to groom your dog.
Dog Grooming Tools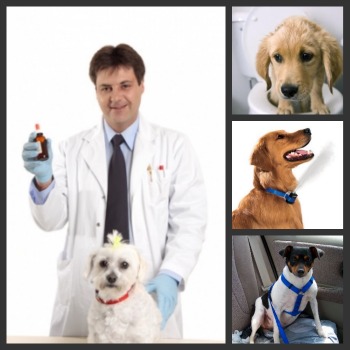 Even if you take your dog to a professional dog groomer, you'll need some basic tools at home to maintain and care for him between grooming sessions.
For example, a brush is necessary to prevent dogs with long hair from developing tangles and matting that might result in irritation to the dog.

You may not have to trim your dog's nails if you take him regularly to a groomer, but if your dog's nails grow rapidly or you can wait longer to take him to a grooming session, you may need nail trimmers and file.

Bathing a dog can be a problem, especially if you have a big one. Little dogs can be bathed in the bathtub, whereas you may need another means to bathe a large dog.
Such tubs or other tools can be purchased online or in your local pet store.

You may also be able to purchase dog shampoo at your local pet store, but check with your dog's veterinarian to make sure you don't need a special shampoo that will better clean and treat the dog's skin.

Your veterinarian will also instruct you if you need to use ear cleaners and medication for problems such as allergies.
You might also need to use special drops for your dog's eyes or take care to wipe excessive "tearing" from around the dog's eyes so that eye infections don't occur.
Dog Tear Stain Remover - Most Effective White Fur Eye Treatment - Best Solution For Removing Saliva and Mucus Build Up In Maltese, Chihuahua, Shih Tzu and Alike, 8oz
Petpost | Tear Stain Remover for Dogs - Best Natural Eye Treatment for White Fur - Soothing Coconut Oil - Maltese, Shih Tzu, Chihuahua Angels Approved - Chemical and Bleach Free - 8 Oz.
Dr. Goodpet Eye-C All Natural Eye Drops for Dogs & Cats - Highest Quality Zinc & Vitamin C
Petpost | Tear Stain Remover Comb for Dogs - Extra Fine Tooth Rake Gently & Effectively Gets Rid of Crust, Mucus, and Gunk Around Your Shih Tsu or Maltese
Premium Eye - Tear Stain Remover for Dogs - Naturally Derived From Coconut & Palm - Lifetime 'Happy Dog' Guarantee!
Dog Tear Stain Remover - Best Natural Formula For Dogs & Cats - Safe & Effective Removal Of Stubborn Eye Tear Stains & Gunk - Great For White Fur, Maltese & Pets Over 12 Weeks - Made in USA 8 fl oz
Clean Dog Teeth Results in Good Health
You want your dog to live as long as possible and enjoy good health the entire time.
Clean dog teeth help to ensure that your pooch will be protected against diseases that dental problems bring such as plaque that results in oral diseases.

Be sure that your dog gets a good dental exam during his veterinarian checkups, but also take care of his dental needs at home.
Examine his teeth regularly and address any problems such as excess tartar buildup and particles and bacteria that may collect along the gum line.

Excess tartar buildup is one of the biggest threats to your dog's dental health.
Plaque will cling to the teeth and build up to a point that causes irritation to the dog's gums.
A dog can develop inflammation and gingivitis just like humans, causing bad breath and deterioration of the teeth.

Your vet can remove plaque with special instruments and then polish the dog's teeth to prevent problems.
This care will also prevent periodontal disease, which is when tartar builds up beneath the gum line and could result in more bacterial growth.

Periodontal disease can be painful, cause loose teeth, bone loss and infections in your dog.
As this disease progresses, the problem may enter the bloodstream, infect heart valves and other organs.
Even if your dog has already developed periodontal disease, your veterinarian can help to stop the process.

A good doggie dental program includes special care at home on a daily basis as well as checkups at the veterinarian.
If you have one of those small dog breeds that are prone to gum disease and loss of their teeth you should brush your dog's teeth daily using a pet toothbrush and toothpaste. Otherwise, once a week or so should be enough if your dog has plenty of bone and knuckle to chew on.

Don't use human toothpaste on your dog – it could contain ingredients that might upset his stomach.

You can make clean dog teeth a relaxing and enjoyable experience for both you and your dog by starting off slow and letting the dog get used to the process.
Give your pooch lots of praise and he'll begin to look forward to the sessions.

It's a good idea to begin cleaning the teeth by putting a small amount of toothpaste on a finger and rubbing it gently against your dog's teeth and gums.
Do this slowly and speak softly to your dog the entire time.

After a minute or two of getting your dog used to the process, you can begin brushing very gently and lifting the sides of his mouth so you can reach the back teeth.
If he shies away from the bristles of the toothbrush, there are various sponges and pads available that you may want to try.

Online sites contain all the supplies and advice you'll need to ensure clean dog teeth for your pet.
You may also want to ask your veterinarian if he would recommend a particular product or method.


Petrodex Enzymatic Toothpaste Dog Poultry Flavor, 6.2-Ounce
Virbac C.E.T. Enzymatic Toothpaste, Vanilla-Mint Flavor, 2.5 oz
Nylabone Advanced Oral Care 2.5oz Peanut Flavored Natural Dog Toothpaste
Dog Toothbrush Set By Boshel? - 2 Dual-headed Brushes For Better Dog Dental Care And Dog Breath Freshener - BONUS Finger Toothbrush Included - Veterinarian Recommended - Use With Dog Toothpaste
KissAble Dog Toothpaste
Petrodex Natural Toothpaste Dog - Peanut - 2.5 Oz
Nylabone Advanced Oral Care Natural Dog Dental Kit
Two-piece Dog Toothbrush Set: Double Sided Canine Dental Hygiene Brushes with Long 8 1/2 Inch Handles and Super Soft Bristles
LILYS PET Dog Soft Finger Toothbrush,Food grade material pet toothbrush,Addition Bad Breath Tartar (3 counts)
Dog Toothbrush Set with Two Dual Double Headed Toothbrushes By Legacy Pet Supplies
EZDOG Triple Pet EZDOG Toothbrush for Large Breeds
Triple Pet EZDOG Toothbrush for Small Breeds, colors may vary
Cleaning a Dog's Ears Can Prevent Serious Problems
Ear infection can be very painful to your dog (it sometimes leads to permanent hearing loss), so ear care is one dog care procedure you should prioritize.
To know if your dog is suffering from ear infection, look out for the signs of odor, redness or swelling, head shaking, and constant scratching.
Often you can smell something unpleasant in the ear, and even see black tar in the ear canal if you have a dog with long ears and long hair.

Cleaning your pup's ears is an important part of the dog grooming process.
Unless you do this on a regular basis, the dog's ears can become a breeding ground for bacteria and infections.
Cleaning a dog's ears doesn't have to be a traumatic experience for you or the dog if you follow some simple instructions.
First, check your dog's ears regularly for any signs of problems. Problems to look for include debris such as dirt, tiny parasites or any signs of discharge.
Your dog's ears should appear clean, pink and healthy.
If they seemed inflamed, project a strong, unpleasant odor or seem sensitive when you touch them, there could be an infection or other type of problem.

You shouldn't attempt to clean your dog's ears if you think you see a problem.
Instead, take him to your veterinarian for a treatment procedure. You will most likely be given ear drops to apply once or twice a day.
If the dog's ear problem isn't addressed soon, it could result in hearing loss.

If your dog's ears simply appear dusty or dirty, follow the instructions below for cleaning a dog's ears:

1. Use an ear-wash formula for cleaning your dog's ears. Never use peroxide, as it can harm the dog's ear canal.
If you prefer to make your own ear wash solution, one solution is to simply mix one part of white vinegar and one part rubbing alcohol. Place the solution in a squirt bottle and be sure to shake well before using.
2.  I prefer to simply dip a cotton bud into some methylated spirits to help wipe the wax, but it will evaporate quickly and leave the ear canal dry.

3. You can use a cotton ball or cotton bud to wipe down the visible portion of the dog's inner ears, but never push a cotton swab far into the ear canal as it might damage his ear drum if inserted too far.

If you have a dog with long ears such as a spaniel, an ear cleaning should be performed once a week. Once a month for cleaning a dog's ears is the norm for other types of dogs, but you should check your dog's ears periodically to look for signs of problems.

Your dog may develop chronic ear infections if he has allergies. Check with your veterinarian to find out what you can do to lessen the effect of these allergies and keep your dog from developing ear infections that could eventually affect his hearing.

Dogs need their ears cleaned on a regular basis, just like humans – and you can enlist the services of a dog groomer or take matters into your own hands by following the instructions above.
You may want to ask your veterinarian if there are any special instructions or formulas that he would suggest for cleaning your dog's ears.

A good trick to getting your dog used to having his ears cleaned is to pet him and talk soothingly to him while handling the ears.
Also, when cleaning a dog's ears, be careful not to jab or clean further in the ear than you can see.


Ear Cleaner for Dogs and Cats with Aloe Vera, Tea Tree Oil & Vitamin E - 8oz
Zymox Ear Cleanser With Bio-Active Enzymes, 4 oz.
Pet MD - Otic Clean Cat & Dog Ear Cleaner - Effective against Infections Caused by Mites, Yeast, Itching & Controls Odor - Sweet Pea Vanilla Scent - 8oz
Virbac Epi-Otic Advanced Ear Cleaner, 8 oz
EcoEars Dog Ear Cleaner. Infection Formula. 8 oz. Itch, head shaking & smell gone in 2-3 Days. Natural 1-Step Ear Cleaner for Dogs with Mites, Fungus, Yeast & Bacteria. Beats Drops, Powder & Pharmaceutical Medication. 100% Guaranteed.
Vet's Best Dog Ear Relief Wash, 16 oz
Vet Recommended - Dog Ear Cleaning Solution - With Natural Aloe Vera for Dog Ear Infection. Perfect Dog Ear Cleaner For Yeast Infection and Bacteria - Made in USA (8oz/240ml)
Top Rated Ear Cleaner for Dogs Gently Cleans Dogs Ears Removes Wax Dirt and Odors Professional Strength Natural Chemical Free Formula - Safe for Dogs of All Sizes and Breeds - 100% Guaranteed
Dog Ear Cleaner/ Advanced Dog Ear Wax Remover- All Natural/With Nature Extracts & Olive Oil - Best Antifungal/Antibacterial Pet Ear Wax Cleaner Products For Small/Large Puppies & Dogs By Makondo Pets
How to Bathe a Dog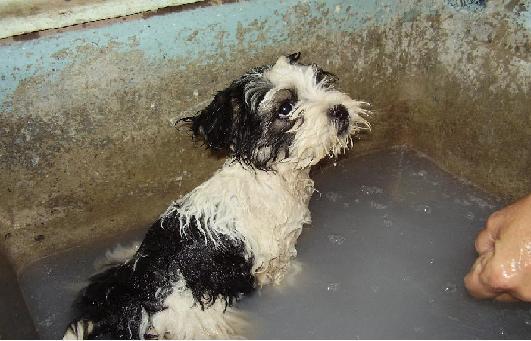 Almost as important as the bath itself is the preparation before the bath happens.
Every dog owner should know how to bathe a dog to get the most satisfying results, and the techniques begin with a thorough brushing session to be sure your dog's coat is free from mats, tangles and debris.
Also check for fleas or hot spots on your dog before you dip him into water.

Prepare the room – bathtub or sink – by protecting items that could be damaged by water (your dog is sure to shake and water will fly).
Be sure to introduce your dog to a hair dryer, running water and grooming tools before his first bath so he won't be afraid of them.

Be sure your bathing supplies are gathered before you begin the bath.
This might include shampoo, brushes, combs, cotton balls or anything else essential for his grooming needs.
Treats are a good thing to have on hand too, to reward your pooch for good behavior.

You may want to consider a detachable spray hose to ensure you get all the shampoo and residue off your dog's skin.
If you don't have one, use a pouring jug or container to hold clean water to rinse the shampoo off with.
Other items that aren't necessary but that you may want to consider are a muzzle (if your dog bites) or a tether to keep it in one place.

During the bath, be sure the water is warm (not hot!) and don't fill the tub or wash basin too full.
Put a towel or rubber mat at the bottom of the tub so that your dog can get a toe grip and not slip and get frightened of falling.

Place your dog into the bath very gently and then lightly spray or pour the warm water over his back to get him used to it.
Try not to scare your dog – or  he'll be more resistant at the next bath.

When your dog relaxes a bit, gently wash his face, but never direct the spray into his face. Keep ears dry and try to keep the eye area dry too.

You can use a washcloth to wet the area gently around his mouth, eyes and nose.
Massage the shampoo all the way down to your dog's skin so that it lathers, but try and prevent it from getting into the dog's eyes and ears.

If you're going to use dog grooming tools such as a rubber brush, now is the time to use it to remove loose hairs and debris.
Use a soft brush to clean around the dog's paws and other possibly sensitive areas.

Now, it's time to rinse. Using warm water, gently rinse the shampoo lather from your dog's coat and skin.
After the shampoo, you may want to repeat the shampoo process if your dog is especially dirty.
A detangler spray is great to promote easier brushing.

After the bath, wrap your dog in a towel and gently rub him dry in a warm, draft-free area. Use a hair dryer if your dog is traumatized by it.

Learning how to bathe a dog correctly is something you should learn in order to keep your pooch healthy and happy. If done correctly, it's an experience you'll both enjoy.


4-Legger Certified Organic Dog Shampoo - All Natural - Hypoallergenic - Normal to Dry and Itchy Skin - Maintains Beneficial Coat Oils - Aloe and Lemongrass - Made in USA - 1 - 16 oz bottle
OxGord Organic Oatmeal Dog Shampoo & Conditioner 100% Natural 20 oz- Medicated Clinical Vet Formula Wash For All Pets - Made with Aloe Vera for Relieving Dry Itchy Skin - Best Pet Odor Eliminator
Pro Pet Works Natural Organic Oatmeal Pet Wash Dog Shampoo+Conditioner with Aloe Vera-Medicated & Vet Recommended Anti-Itch Formula for Allergies & Sensitive Itchy Skin 17oz
Cloud Star Buddy Wash Dog Shampoo + Conditioner - Lavender and Mint, 16-Ounce Bottles (Pack of 2)
Cloud Star Buddy Wash Dog Shampoo and Conditioner, 16oz, Green Tea & Bergamot
Natural Flea & Tick Shampoo Bar for Dogs & Cats with Rich Lather | Kills & Repels Fleas | Soothes Itching, Scratching, Dryness, Dandruff & Damaged Skin | 4.3oz Eco-Friendly Bar with No Plastic Waste
Oatmeal Dog Shampoo for Itchy Skin - Soothing Relief Anti Itch Aloe Vera and?Moisturizing Shea Butter - Natural Wash for Dirty Pets - Vet Recommended Best Bath Formula for Professional Groomers
Vet's Best Hypo-Allergenic Dog Shampoo, 16 oz
Shampoo for Dogs with Allergies, Dry, Itchy and Sensitive Skin-dog Shampoo for Hot Spots in an 8 Ounce Concentrate Which Makes 48 Ounces of Soothing All Natural Dog Shampoo, a Great Value. Vet Recommended Used By Groomers and Breeders.
Oatmeal Dog Shampoo with Probiotics from Nature's Perfect Pets LIFETIME GUARANTEE
Flea Powder

Every few weeks you need to help your dog stay free from fleas and ticks.
There are tablets, sprays, shampoos, powders and flea collars that are all designed to help you stay flea free.
I like to also use flea powder on the carpets and the pet beds as a bit of extra reinforcement.

Hartz Mountain 84137 UltraGuard Plus Flea And Tick Powder
Adams Carpet Powder
Adams Plus Flea and Tick Spray for Cats and Dogs, 32 Oz
Flea and Tick Herbal Internal Dog Powder Yeast Free
De Flea Pet & Bedding Spray for Dogs. 24oz (Not for use on Cats)
Dog/Cat Flea Tick Powder
Remedies for Bad Dog Breath
Doggie breath has been the butt of jokes for years.
You and your friends might turn away from your dog and grimace every time he breathes in your vicinity – that's doggie breath.
There are remedies for dog breath that can help – some can be purchased and others you can mix at home.

Some causes of dog breaths aren't easily remedied, but it can get better with a bit of research and persistence.
For example, if oral hygiene is the problem, you'll want to be sure and take the dog to the veterinarian and make sure there's no medical problem.
Then, brush the dog's teeth and gums on a regular basis to remove plaque buildup. Follow the instructions as set out above on this page.

You may need to switch your dog's brand of food or try a more natural diet that you put together for him at home.
There are also chew toys that you can give your dog to help treat dog breath. Many treats also target your dog's breath.

Halitosis in dogs could be a sign of an oral disease or another disease happening in the dog.
Other than puppies – which all have bad breath – you should check with your vet if the dog's breath problem becomes extremely offensive and you suspect an underlying cause.

Never use human mouthwashes, toothpaste or breathalyzers to cure your dog breath problem. These may be harmful to the dog and cause other maladies.
Spraying a solution that's 0.12 percent chlorhexidine for one to two weeks may help dog breath, but be sure to ask your veterinarian about using it on your dog.

Some things to check when examining your dog's mouth include abscessed teeth, inflammation of the gums or an inflammation of the tissue surrounding the tooth (Periodontitis), a piece of debris stuck in the dog's mouth or oral sores.

Other problems that could cause dog breath are cancer and kidney disease.
If you just can't get rid of the dog breath problem, it's best to consult your veterinarian and run let him run tests to see if internal reasons are causing the odor.

Observe your dog and notice any signs of oral pain, discharge or excessive drooling.
If your pet has trouble swallowing or eating, there may be a problem that should be addressed by your vet.
Your pet might slip into a depression if these things are happening to him, so also be aware if your dog is displaying unusual behavior.

Your dog may also be eating items that it shouldn't, such as human table food or old bones that he picks up from outdoors.
This might also cause digestion problems which could result in dog breath.

Knowing what the problem is can be the first step toward solving your dog breath problem. Once you know the reason, it's easier to find the remedy.


Tropiclean Fresh Breath Plaque Remover Pet Water Additive 33.8oz
Pooch Smooch - Bad Breath Eliminator for Dogs - Made in the USA - Proprietary Enzyme Mix to Combat Bad Breath
Old Mother Hubbard Mother's Solutions Minty Fresh Breath Natural Crunchy Dog Treats, 20-Ounce Bag
Dog Breath Freshener - Stank Be Gone. Dog Water Additive with Natural Ingredients. Eliminate Bad Dog Breath. Helps to Remove Plaque and Tartar From Pet Teeth. For Cats Too.
Bad Breath System for Dogs - Orapup Beef and Bacon Starter Kit - Natural Bad Breath Fighting Enzymes - Reduces Plaque and Tartar Buildup - Fresh Dog Breath Without Brushing and Dogs Love the Taste
#1 Premium Pet Water Additive for Dogs and Cats ? Freshens Breath, Reduces Plaque & Tartar With No Effort - Simply Add to Your Pet's Water Bowl ? Fresh Peppermint 16oz
Dog Brushes

The very first dog grooming tool that every owner gets from day one is the dog brushes that will help keep your dog tidy and prevent snarls in their fur.
And you would be surprised how many kinds of dog brushes there are, but I can assure you that different breeds require different kinds of brushes.
I used to have 4-5 brushes for each dog, as I needed different kinds for wet hair, for thinning out Spring and seasonal growth, and one just for the pleasure of the dog, as they ADORE getting their fur brushed if you are gentle with them.
You will probably end up with at least one wire brush to thin out excess hair, and one soft bristle brush for pleasure, and a wide tooth plastic brush for separating wet hair.
For different types of breed, frequency of brushing and trimming varies.

For dogs with long, thick, coarse or straight coat, daily brushing and frequent trimming is required.

Dogs with smooth coat require weekly brushing. They can be washed occasionally. Dogs with this type of coat are Dachshunds, Labradors, and Dobermans. They tend to be some of the easiest dogs to groom.

Dogs with wiry coat have dense, stiff hair that require daily grooming. This will prevent matt build up.

Short coat dogs - German Shepherds and Welsh Corgis - require at least twice a week of brushings. Dogs of these kinds may have straight surface, thick hair combined with downy, profuse, and water resistant hair near the skin.

Dogs like Poodles, Portuguese Water Dogs, Irish Water Spaniels, and Kerry Blue Terriers are distinct on having extremely waterproof and non-shedding coat. Bathing and clipping may be done twice a month.

Silky coat dogs like the Yorkshire Terriers, Shetland Sheepdogs, Rough Collies and Afghan hounds, require daily grooming, a lot of care, and regular trimming.

For Your Dog 078279-102 2-in-1 Combo Brush
Dog and Cat Brush by Dapper Pets - Fast, Effective In-Home Pet Grooming Cuts Down on Shedding - Features Non-Slip Grip Handle and Quick Release Button - Premium Quality Anti-Rust Stainless Steel Comb
DakPets Deshedding and Light Trimming Tool, Blue
Hertzko Self Cleaning Slicker Brush
Chirpy Pets Dog and Cat Brush for Shedding
Oster 078279-002 Premium 2-in-1 Combo Brush for Pets
FURminator Dog Dual Brush, Large
Dog Self-Cleaning Slicker Brush -Painless Cleaning & Grooming, Instant Cleanup. Love It Or Your Money Back! Wet Or Dry, Powerful But Gentle Stainless Steel Bristles, 100% Safe For Your Pet, Keeps Furniture & Clothes Clean, Reduce Shedding -Epica
KONG ZoomGroom, Dog Grooming Brush, Boysenberry
Li'l Pals? Slicker Brush
Nail Trimmers & Clippers

Keeping the nails clean is another important dog grooming practice you should know.
There are basically 2 types of dog nail clippers: scissors style nail clipper and the guillotine style clipper.
The two designs come in different sizes to comply with every dog size and age. Both will work best in keeping your dog's nails neat.
I used to use simple dog nail clippers for many years with my first couple of dogs, but as soon as the Dremmel / Pedi Paws came out I quickly got one to try out, and I highly recommend them!
Even my most nervous dog of all would let me trim his nails with the electric Pedi paws sanding tool.

Pedi Paws Dog Nail Grinder by BulbHead - Professional Style Dog Grooming Using Gentle Filing Wheel for Your Pet's Happy Paws
Oster Gentle Paws Premium Nail Grinder for Dogs and Cats
Safari Professional Large Nail Trimmer For Dogs
Best Dog Nail Clippers and Trimmer - Includes Safety Guard to Avoid Overcutting & Nail File to Smooth Out Nails - Strong and Sturdy Build - Must Have Pet Grooming Supplies
Dremel 7300-PT 4.8V Pet Nail Grooming Tool
Pet Nail Grinder, Amir Gentle Paws Premium Electric Nail Grinder For Dogs and Cats/Pet Grooming Kit
Best Dog Nail Clippers and Trimmer On Amazon - Free Nail File Included - Razor Sharp Blades - Safety Stop to Prevent Overcutting Nails - Non Slip Handles - For Professional, Safe, At Home Pet Grooming - By Boshel?
Koodella Dog Nail Clippers With Quick Sensor. Best Professional Dog Nail Trimmer For Large, Medium, and Small Dogs.
Best Professional Pet Nail Clipper Large
Rechargeable Pet Nail Grinder, Amir? Gentle Paws Nail Grinder, Electric Premium Nail Grinder Professional Pet Nail Trimmer for Dogs and Cats/Pet Grooming Kit
Dog combs
Untangling accumulated coat from your dog especially on the parts of the ears, tail, and paws could be done with the help of dog combs.
Like dog brushes, there are several types of dog combs.
You can choose one depending on your dog's needs but the rule stays the same regardless of what type of comb you have.
That is, to use the instrument carefully to avoid hurting the dog's skin.  

De-matting tool - There are limitations with what brushes and combs can do.
One of these is removing matt and even preventing matt from your dog. De-matting tool will do what brushes and combs could not.
De-matting tool breaks up matt concentration into smaller pieces that would make it easier to remove with a brush or a comb. 
Andis Pet 7-1/2-Inch Steel Comb (65730)
Dog Comb, Itery Pet Grooming Tools-deshedding Brush Stainless Steel Dog Comb with High Quality
DakPets Deshedding and Light Trimming Tool, Blue
Save $9.77 - Durable Steel Dog Grooming Comb And Shedding Tool, Money Back Guarantee, Pet Supplies Free 65-page Guide
FURminator Dog Rake
Li'l Pals? Double Side Comb
Safari? De-matting Comb
Dog Comb, SySrion? Pet Grooming Comb Tool - Dog Rake Comb Trimmer Stainless Steel Dog Comb with High Quality
For Your Dog 078279-107 Flea Comb
Safari- Comb, Medium / Coarse
Dog clipper and blades
For some, learning How To Groom Your Dog means having dog clipper and blades. In fact, god owners love to talk about their clipper for it signifies that they maintain the grooming of their dogs.
Some dog clippers have permanent blades while some have changeable ones. It depends on you, however, to choose between the two.

Scissors and trimmers – To keep your dog in-style, dog scissor is a must.
There are several types of dog scissors available: curved shears, straight shears, thinning shears, and blunt-tipped shears.
To know how to properly use these tools, you can read articles about the particular topic.
Dog training schools and programs also include lesson on how to use dog scissors properly.

Oster 78919-046 CryogenX Professional Animal Clipper Blade, Size 10
Andis Pet CeramicEdge Carbon-Infused Steel Animal Clipper Blade (64240)
Andis Carbon Infused Steel UltraEdge Dog Clipper Blade, Size-7 Skip Tooth, 1/8-Inch Cut Length
Andis EasyClip Pro-Animal 7-Piece Detachable Blade Clipper Kit in Frustration Free Packaging, Pet Grooming, MBG-2 (22690)
Andis ProClip AG2 2-Speed Detachable Blade Clipper, Professional Animal Grooming, AG-2 (22215)
Oster CryogenX Professional Animal Clipper Blade, Size # 3 Skip Tooth
Geib Buttercut Stainless Steel Dog Clipper Blade, Size-30, 1/50-Inch Cut Length
Geib Buttercut Stainless Steel Dog Clipper Blade, Size-10, 1/16-Inch Cut Length
Andis ProClip Super 2-Speed Detachable Blade Clipper, Professional Animal Grooming, AGC2 (22685)
1037-400 Standard Adjustable Replacement Blade Set, 30-15-10 Standard by Wahl Professional Animal
Important!
Among the optional dog grooming tools include grooming tables and cage or stand dyers.
Grooming tables come in hydraulic models, stationary or electrical versions.
Cage and stand dyers on the other hand are more popular on dog spa. Accessories are also available for grooming tables.

Flying One Purple High Velocity 4.0 Hp Motor Dog Pet Grooming Force Dryer w/ Heater
Go Pet Club Pet Grooming Hair Dryer for Dogs and Cats
Metro Air Force Steel Quick Draw Dog Dryer, 1.3 HP
Comfort Dry Dryer, Professional Animal Grooming, ST-6 (60070)
Go Pet Club Grooming Double-Motor Hair Dryer for Dogs and Cats
Flying Simple Dog Cat Pet 3.0 Hp Hair Grooming Force Dryer with Heater (Purple)
Metro Air Force Steel Commander Variable Speed Dog Dryer, 4.0 HP
HPD Portable Dog Cat Pet Groomming Blow Hair Dryer Quick Draw Hairdryer W/ Heater
Master Equipment Small Pet Grooming Table, Blue
Bestpet Large Adjustable Pet Dog Cat Grooming Table W/arm&noose Rubber Mat Gt32
Master Equipment Zinc-Plated Steel Overhead Pet Grooming Arm
No-Sit Haunch Holder Dog Grooming Restraint Small Medium Dogs (Colors May Vary)
Top Performance Foam and PVC Pet Grooming Table Top Mat, Large, Black
Top Performance Adjustable Nylon Table Harnesses - Versatile Nylon Harnesses to Safely Secure Dogs on Tabletops While Grooming, 27"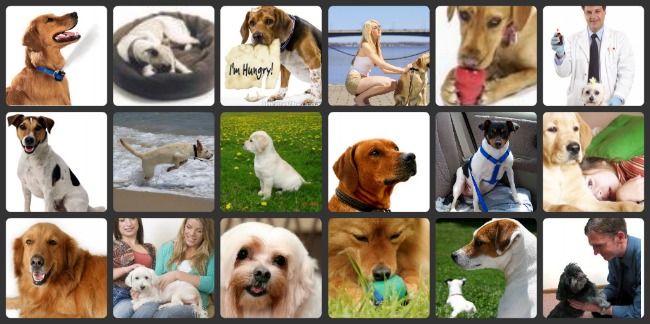 More Resources Needed For Learning How To Groom Your Dog
Here are some products you can buy online that I think look very as you learn How To Groom Your Dog:

Wahl Professional Animal Deluxe U-Clip Pet Grooming Kit 16 pc. set #9484-300
Brave the Beast - Dog Grooming Kit - Includes Pet Nail Clippers, Grooming Scissors, Combs, Nail File and More! Get the Supplies to Groom your Pets Today!
Oneisall Rechargeable Cordless Professional Home Pet Dogs And Cats Grooming Trimming Clipper Kit
Sminiker Rechargeable Cordless Dogs and Cats Grooming Clippers - Professional Pet Hair Clippers with Comb Guides for Dogs Cats and Other House Animals,Pet Grooming Kit
Maxshop Low Noise Rechargeable Cordless Pet Dogs and Cats Electric Clippers Grooming Trimming Kit Set (Gold+Black)
Oneisall Rechargeable Cordless Professional Home Pet Dogs And Cats Grooming Trimming Clipper Kit
Dog Grooming Clippers - [New Model] Professional Pet Electric Hair Clippers Heavy Duty with Comb Guides for Small Medium & Large Dogs Cats and Other House Animals
Vastar Curved Scissor Set - Perfect for Pet Grooming, Used for Dog, Cat, Durable Stainless Steel, Provided with Pouch and Steel Grooming Comb
Petroad Pet Grooming Set - Used for Dog and Cat- Durable Resistant Stainless Steel Tools Provided with a Black Pouch
Below here I'm featuring more pages with helpful how-to-do-it  tips on How To Groom Your Dog
Feel free to submit your own story or article about How To Groom Your Dog, and I will create your own page here with your contribution for the community to read.

More Tips for How To Do It Yourself: Pet Care
Do you have a Pet Care tip you want to contribute here? Share it!
Read the latest updates & rest of the how-to tips here:
Click the Title links below to see the latest how to do it tips and contributions to this page...


"Power Tips" magazine is back!
You Get A Free Complete Self Help Report delivered to your email box every edition, plus you get a free PLR article and other great gifts!

SUBSCRIBE BELOW ...  I promise you will want to USE what you learn!
I really want to know what you think of this site, this page, and to hear your tips or suggestions about it.
So please share your story or simply add a Comment in the comment box.
If you feel that the information on this page has been useful to you please give it a Like or share it with your friends - thanks!!

"You are a life Saver!!
I recently discovered this site and I can tell you that my life has not been the same. I now come here EVERYDAY and spend at least 1 hour.
I used to spend that time browsing online fashion and beauty magazine which just means that I spend more. Now I have replaced that habit with coming here.

In future I will think about contributing articles as well. Thank you! Thank you!! Thank you!!! and God bless"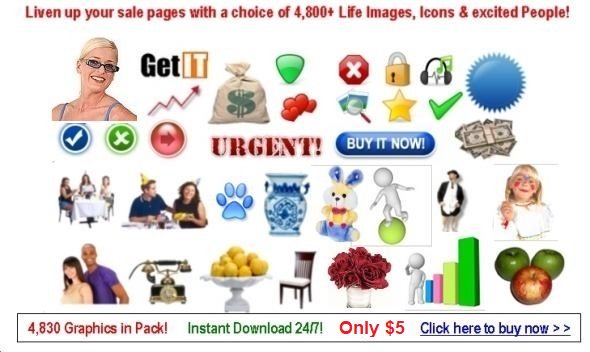 Contact Us | About Us | Terms of Use | Privacy Policy | FAQ | Testimonials

Amazon and the Amazon logo are trademarks of Amazon.com, Inc. or its affiliates. As an Amazon Associate I earn from qualifying purchases. Product prices and availability are accurate as of the date/time indicated and are subject to change. Any price and availability information displayed on [relevant Amazon Site(s), as applicable] at the time of purchase will apply to the purchase of this product.

Back to HOME PAGE of this how to groom your dog section of the site.