How to Google Plus to  Set up your Google+ Page and Hangout
If you have heard about it and you want to learn how to Google Plus  (pronounced and sometimes written as Google + or G+) this section will show you how to do it.
Google Plus is a social networking and identity service
operated by Google Inc. Its doors opened in September of 2011 to
anyone over the age of 13, in the US and many other countries.

Google Plus integrates social services such as Google profiles,
Circles, Hangouts, Pages and Sparks. It is available on websites and
mobile devices worldwide. Many say that Google + is Google's biggest
attempt to rival Facebook, which currently has over 800 million users.
Currently Google + is considered to be one of the top five social
networks online.

When it comes to visiting our favorite social networks we have come to expect certain things like twitters 140 character limit, Facebook pages and LinkedIn's focus on business connection.

Google Plus as done a good job integrating many of our favorite
features into its own social network in an attempt to make it more
popular and draw users away from other networks.

For instance, one of the main things that most people do on social
networks is post updates. While Facebook and Twitter have limited
space for updates, Google plus has removed that limit giving users the
freedom to include as much content as they like, so if you want to post
an entire article or a 2000 word report you can.

Google Plus also allows its users to have more control over who sees
their postings by using Circles. They make it easy to share the right
things with the right people.
With circles, you can make your postings public, private or limit them to a small group of people. So if you want to post an update about a family event you can be sure that your business colleagues won't see your personal information and vice a versa.

They have also made chatting with friends, family and colleagues
easier too! Unlike Facebook's chat feature, Google Talk and Gmail
chat, Google+ is taking instant messaging to the next level by
introducing circles into the mix.
Similar to groups on traditional IM buddy lists, with Google Plus you can start a chat (or video chat) with several people at the same time within your circles as well as add and remove people you from your chat list too.

What Is Google Plus?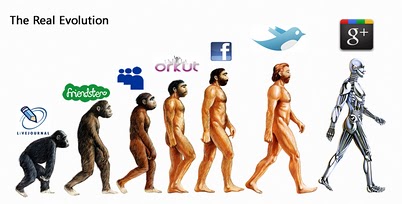 In this section we are going to go over some of the Google+ features and what they do.

- Circles

Google Plus circles are how you organize your contacts within your
Google Plus account. They give you the ability to group your contacts
into different categories.

You can have as many circles as you like. Once you joined Google Plus you will have the option of using the default circle set up by Google or
creating your own customize circles.
You can name your customized circles anything you want. For instance, you could have a circle for acquaintances, coworkers, family members, friends or even your favorite movie stars.

Every time you post an update you will have the option of which circles
will be able to see the update. This will give you greater control over who sees your content giving you the ability to add content on a wide variety of topics.

Tip: When you are first getting started the fewer circles you have the
easier it will be for you to manage them. Then as you get more familiar
with the way, Google + works you can add more circles.

- Streams

Google Plus Streams are much like the news feed in Facebook. Every
time you login to your Google + account you'll be taken to the home
page where you'll be able to see the most recent activity from friends in your circles. This is where you will be able to post your own content too.

One nice thing that makes posting to the Google+ Stream more user
friendly is that you have the ability to edit your Stream posts after they
are posted.

- Hangouts and Huddles

Hangouts and Huddles are another great way that Google + helps
people stay in touch with family, friends, customers, and co-workers.

These are two features that business owners should definitely take
advantage of, especially Hangouts because it allows users to socialize
with up to 10 people using live webcam videoconferencing.
During the chat users can share links as well as watch YouTube videos simultaneously. While videoconferencing is nothing new, Google Plus is one of the first social networks to offer it in this way.

- Sparks

This is a very nice feature that automatically loads, posts, articles and
videos based on your interests onto your Stream.
It functions similarly to an RSS feed and in true Google fashion users see the most recent and most relevant information on their chosen topics as they happen!
It also makes it easy to share photos, videos and links with everyone within your circles, as well as those who have added you to their list of
contacts.

With so many users migrating to Google Plus there is no doubt that it is a good idea to explore all of the opportunities that it has to offer,
especially when it comes to using social media and social networking
for business!
Now let's look in detail at how to set up and manage these features:

1.  Google Hangouts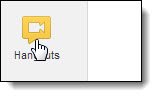 Creating a Hangout is ridiculously easy.  You'll find buttons and notices begging you to create one on just about every Google Plus page.
You don't need to wait for one of these to appear, however:  Simply look over at your left-hand vertical menu, within Google Plus, and click on the "Hangouts" icon.
Any person with a Google account can go to Google Plus and instantly create or join a Hangout – a live video chat, where all members can:
·         Share data onscreen (including anything they've got open on their desktop)
·         Watch a YouTube video together, right within the Hangout
·         Create a Playlist, so your Hangout can re-watch any YouTube videos you've used
·         Work with Google Docs onscreen during the Hangout
·         Use SlideShare presentations during the Hangout
·         Click on any Hangout participant's thumbnail video screen and talk to them directly
·         Work with texts on the side, if participants prefer to type questions and comments, rather then talk
·         Work with diagrams and other aids
·         Use powerful apps to enable multi-features such as being able to do all of the above
There is even an App (Google Effects) that allows you to add sound effects to your Hangout or "dress up" with added virtual fake moustaches, hats and the like.
The people in the screen thumbnails under the main screen are the participants, and these are not photographs – their video feed is live. 
Anything could be going on, on screen: A SlideShare presentation; someone demonstrating how to use Photoshop; someone introducing a Google Doc.
Hangouts have been around for a while, but since Google added Apps and moved all the tools to the left of the screen in a vertical, easy-to-use toolbar that doesn't interfere with the Hangout on-screen activity, it has really taken off. 
In fact, given the timing, it may even be responsible for the huge spike we saw earlier in our Quantcast graph.
People are discovering that it's a great, real-time way to get to really know members of their forums, groups and Google Circles.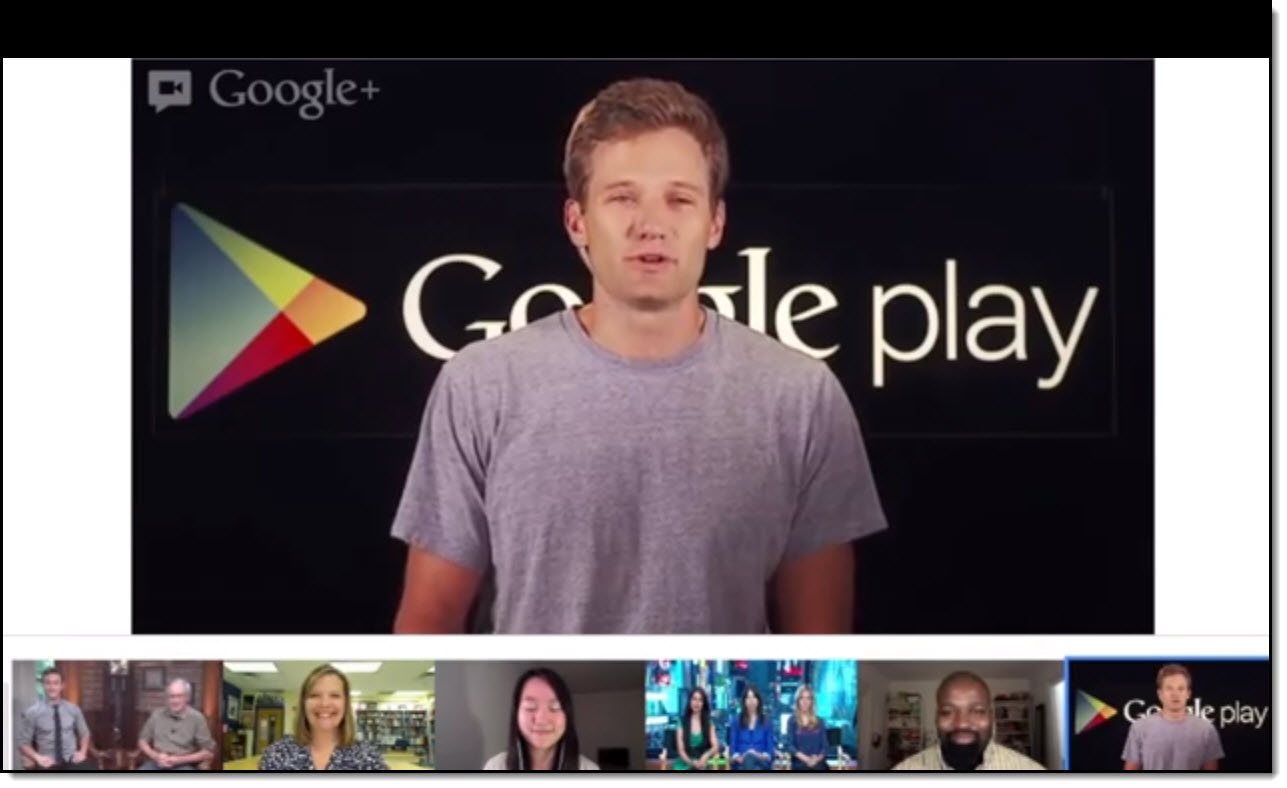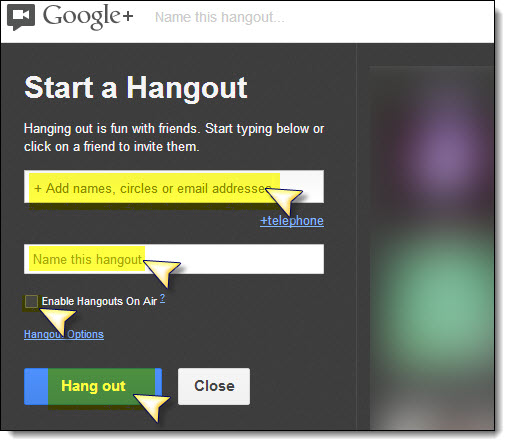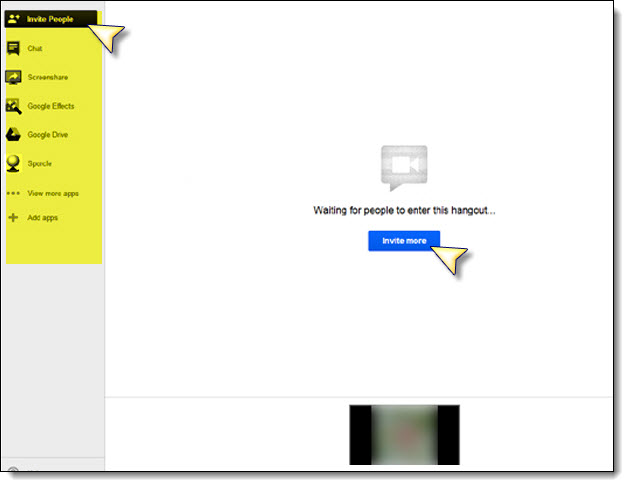 If you would like your Hangout to be live and "stream", check the little "Enable Hangouts on Air" box. 
You won't lose anything by making your hanging a live streaming one:  In fact, it will be automatically recorded, and you'll be able to access it later.
Once it takes you to your Hangout screen, you can add more people or select some of those Apps we talked about from your left-hand, vertical "Tools" menu.
Creating and using a hangout is even more easy than these instructions! 
If you're nervous about it, select one person you feel really comfortable with and ask if they will join a practice Hangout with you. 
(In fact, it's a good idea to arrange Hangouts in advance whenever you can:  That way, they're more likely to be there and prepared to get – and give – the most.)
2.  Google Plus Circles

The second biggest player in the Google Plus arsenal is Google Circles.
Think "groups" or "lists" – but creating and accessing your Circles is drag-and-drop easy!

Google Plus was developed on a very simple yet powerful premise.

Rather than adding friends or followers you create circles that allow you to easily segment your contacts.
You can label your circles as anything you like, such as; acquaintances, coworkers, family members, friends, favorite movie stars or even customers.
You can also have as many circles as you want without any limit making it easy for you to expand your network of contacts.

Let's take a quick peek at some of the things that circles can do:

- They can help you organize content and people.
- Save time by allowing you to read posts by people in specific circles.
- They can be easily shared with others.
- You have the ability to share specific information with specific circles.

Let's quickly go over the different types of circles:

- Public Circles - Anyone on Google Plus who views your profile, has
included you in one of their circles to see your content.

- Your Circles - Everyone who is in one of your circles can see your
content.

- Extended Circles - Everyone who is in a circle of someone in one of
your circles

- Specific Contacts - You can add individual email addresses for
contacts even if they don't have a Google Plus account.

Creating individual circles for each group of contacts gives users the
ability to post content that goes out to specific audiences. This makes it easier create content and updates based on which circles they will be shared with.
Unlike Facebook and Twitter posts this gives users the
ability to connect with the people in their network in a far more
personalized manner. This is targeted sharing at its best.

From a business standpoint this can be an explosive marketing tool
allowing business owners to create specific campaigns geared
towards targeted audiences and connect with them through circles.

Let's go over a few quick ways to beef up your Google Plus circles:

- Optimize your profile

We touched briefly on this in your last lesson. It's important to optimize your profile, especially if you want to be added into relevant circles.
Remember your profile is your introduction to the world so be
sure to take some time completing the "About" section.
Include compelling information about yourself including what you do, what you enjoy and what type of content that like to you write or share.

If you don't tell others about yourself, it's difficult for people to circle you, or even know what type of circle to add you into.

- Circle people with common interests

On way to start getting active and noticed in Google Plus is to find
interesting people to follow and circle.  Keep in mind that circling them
doesn't mean they'll circle you back.
If you really want to get them to circle you back try engaging with them by posting helpful and thoughtful comments.

There are several ways that you can go about finding people to add to
your circles. You can find them by doing a search from within Google
Plus by topic.

This will provide you with the most recent postings on the topic you
chosen, when you hover over the names of the people who contributed
the post a box will pop up giving you the option of adding them to one of your circles.

When you first set up your Google account, you'll be given empty, pre-named "Circles", but you can easily add your own custom circles.  You then drag-and-drop friends' thumbnail photos into the Circle of your choice.
You can now "Chat" with people in your Circles.  When you log into Google Plus and reach your main news feed, you'll see a button allowing you to enable that in your right-hand sidebar.
You can create Circles to separate and house any of your Google Plus contacts who have shared, specific interests:
·         Your Facebook friends
·         Members of separate forums you belong to
·         Your fellow hobbyists (i.e. all your Woodworking friends)
·         Your subscribers
·         Your industry networking friends
·         Your Friday Night Accountability group or Dieting Friends
And just about any grouping you can think up.  Circles are an incredibly easy way to organize different groups with different interests – and what's more, you can see them all visually and instantly.
Access Circles from your main Google Plus feed page by selecting its icon in the left-hand vertical menu.  (Hover over any of the icons to see what they do. )
There are also several websites that help you find people to circle.

Here is a quick list of some of the most popular:

http://findpeopleonplus.com
They have Over 45 Million Google+ users indexed.

http://plusfriendfinder.com
The yellow pages for Google Plus

http://gpeep.com
To help you improve you ranking.

http://www.recommendedusers.com
They help you find people based on specific topics.

http://www.circlecount.com
Helps you better understand Google+ with rankings and statistics.

There are many more, just do a search for "Google Plus directory" and
you'll find listings for many different directories where you can find new
people to circle as well as add your own profile, so they can find you.
This is also where you'll access Hangouts, Google Plus Local, Events, your Photos, your Profile  -- and more.  "More" right now meaning "Google Plus Pages"…
3. How to Make Business Google Plus Pages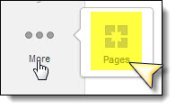 This is Google's answer to Facebook Pages, meant to showcase your business. 
When you click on the little "Pages" icon in your left-hand vertical menu, you'll be taken to the "room" that houses your Google Plus Business Pages, as well as any Pages from your others you've been given rights to access.
According to Google, Google Plus Pages provides businesses,
products, brands, and organizations with a public identity and presence on Google Plus .

Pages are extremely similar to profiles, but there are a few slight
differences when it comes to setting up Google Plus Profiles
and Google Plus Pages.

Let's go over a few of those differences very quickly:

- Pages can't add people to circles until the page is mentioned or
added first. They can use circles to share with and follow other people,
however pages can only add followers of the page to its circles.

- Pages can be made for a variety of different entities and can have
multiple administrators.

-  Pages automatically have the +1 button making it easy for visitors to
endorse them.

- Pages can't play games and they don't have the option to share to
'Extended circles'.

- Pages can't use hangout on a mobile device and local pages have
special fields that help people find the business' physical location.

To create a Google Plus page you first have to have a personal profile
on the network.
You can then create a page from inside your profile by clicking on the more tab and choosing pages.

Pages can be created based around five different categories:

-   Product or Brand

This is where you would create page to promote a specific product or
build your business brand.
There are a variety of categories to choose from under the product or brand tab including, apparel, cars, electronics, financial services and more.

-   Company, Institution or Organization

This category should be used if you are building a page to promote
companies, institutions, organizations or non-profits or similar
entities.

-   Local Business or Place

This is perfect for business owners who want to promote locally
including, hotels, restaurants, places, stores or services. This can be a powerful tool if your location is important because you can add a map to your Google+ page that directs customers right to your door.

-   Arts, Entertainment or Sports

Under this category you can create pages for movies, TV, music,
books, blogs, sports, art shows and more.

-   Other

If you don't feel your page fits in any of the other categories mentioned
you can select Other, where you can enter your page name and website without any additional category selection.

Just like with creating your profile from within Google Plus you'll want to spend some time creating a public profile for your individual pages as well. Make sure that you include a profile picture, a professional tagline, along with compelling information and relevant links.

There is no doubt that pages are a powerful tool for anyone looking
to promote their business, brand or institution.
They can help people find you, plus learn about services, products, promotions, and pretty much anything else you want to share.

If you have either your own page or access to someone else's, you can select from these already-created Pages to instantly open up the one you want. 
1.      If you haven't yet created one, simply press the red "Create Page" button to start setting one up.
You'll be taken to a new page, where you'll select the first of three simple steps – deciding what type of business yours is.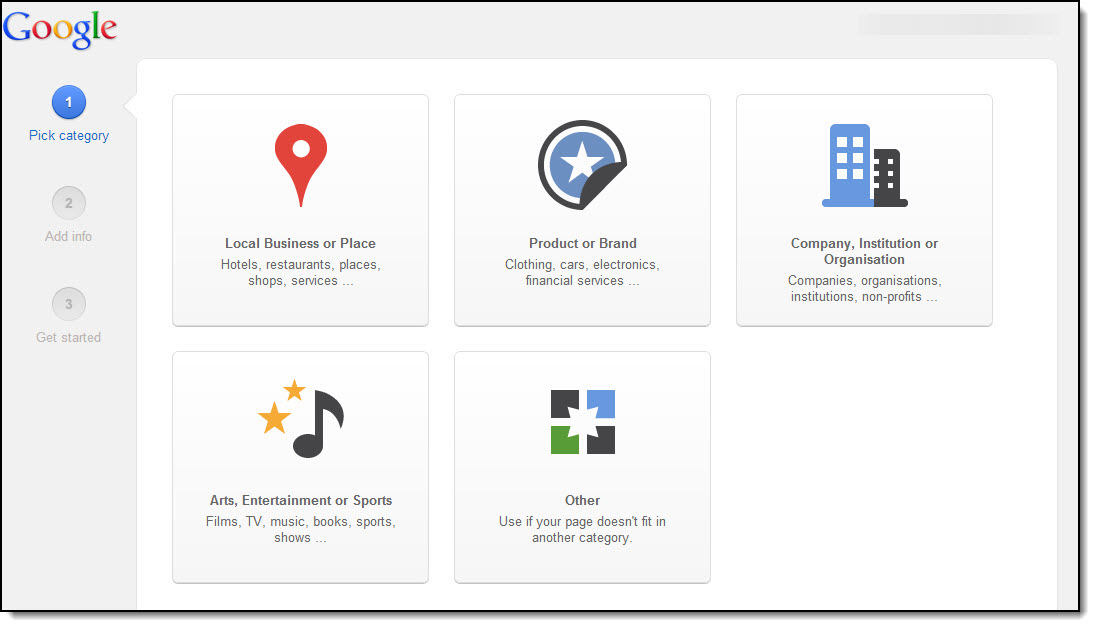 If your business has a storefront and geo-targeting (location-based marketing) is important to you, click the "Local Business or Place" icon. 
If you are trying to promote a particular product or brand your business, click the "Product or Brand" icon; and so forth.
If you're not sure what category to place your Business Page in, select "Other".
1.      Next, you'll be asked to enter your Page data.  Fill in:
·         Your Page name
·         The website URL you want it to point to
·         Click on the little arrow for a drop-down menu to set the rating
·         Check the radio button to agree to Google's terms  (do read them first.  They'll open up in a separate window)
·         Click the red "Continue" button
2.      Once you've worked your way through fields to be filled out, you'll finally be able to customize your Page. 
Start by uploading a custom background (akin to Facebook's "Cover Photo") to replace the default background.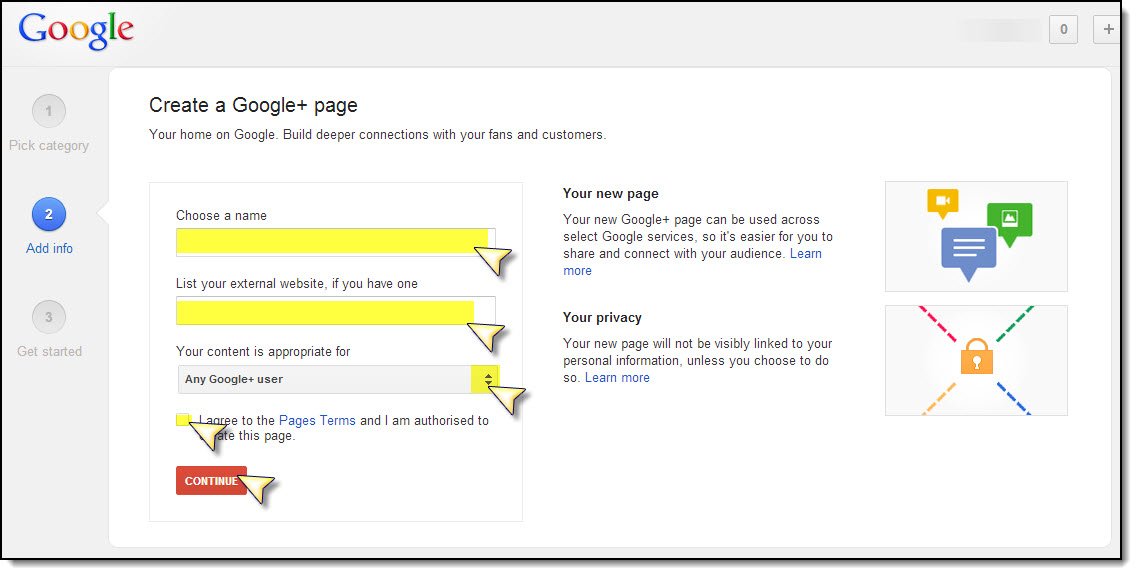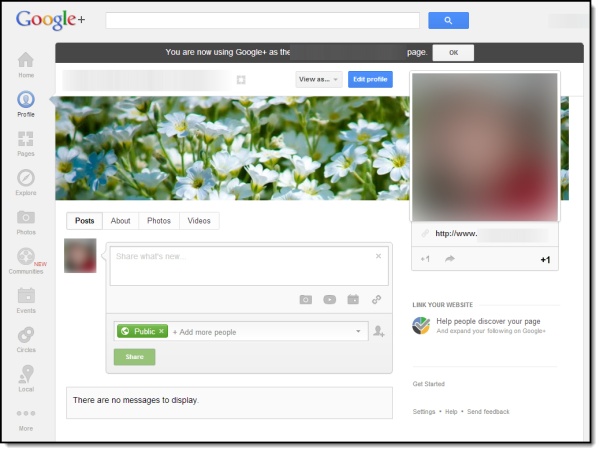 You'll find your Profile photo already there; and unless you're planning to replace it with a company or product logo (or a photo of your storefront or sign, if yours is a local business) leave it as it is – you should use the same Profile Photo across all your social networks.
It's easy as ABC to perform actions like change your Cover Photo. 
Most of these are drag-and-drop – and in the case of the Cover Photo you don't even have to have exact size – you're able to reposition it just by dragging to reposition it.
Cover Photos should be a minimum of 940 X 180 pixels.
You can change your Profile Photo in the same way. 
Plus, notice you can click on the blue "Edit profile" button at the top left of your Profile photo to instantly change data on your Google Plus profile.
Once you're satisfied with your Page, remember to Share it and promote it across other networks. 
And do be sure to Log In as your page at least three or four times a week, as well as daily under your own Profile.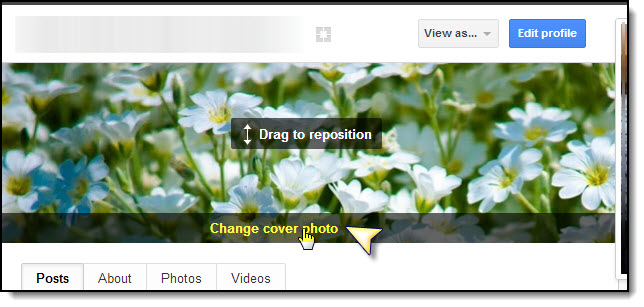 4. Google Plus Local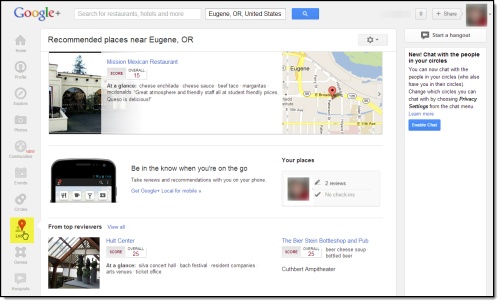 If yours is a local business, don't ignore Google Plus Local! 
You can find its icon in your main left-hand vertical menu.
Your main strategy will be uploading specific photographs and data for your "Place" – along with a link URL to your website or other landing page.
Once you've done that, do everything you can to inspire reviews. 
This is what will vault you to the top of your city's Google Plus Local listings for your business type:  A well-optimized Local profile using the keywords you want.
For example,  if your business is a Mexican Restaurant in Eugene, Oregon, you would want the following keywords laced through your text:  "Eugene," "Mexican", "enchiladas", "tacos" – and if you were licensed, "margaritas").
Think up promotions to inspire your customers to leave reviews.  Solicit them on your cash register receipts or flyers.
And, of course, just ask for a review!  (If your customer has a mobile, suggest they do it while they're waiting for the check.)
5.  Creating a Perfect Profile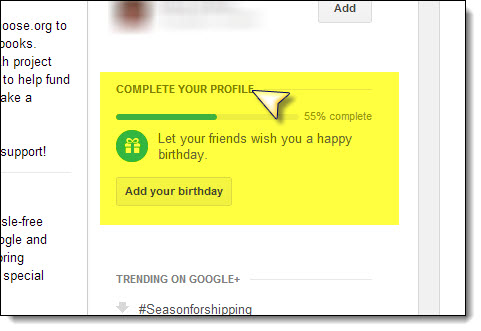 All of these Google Plus tactics won't be half as effective if you don't optimize your Profile, when you sign up for Google Plus. 
According to Google, your profile is the way you represent yourself on
Google, Google Plus and across the web.
From within your profile you can manage the information that other people see such as your bio, contact details, and links to other sites created by or about you.

Google believes that your profile is all about you and they have given
you a complete control over the information you share publicly.
So while you're profile is public all they require you to share publicly is your full name and your profile picture.
You don't have to share anything elseunless you are comfortable doing so. Giving you complete control over your privacy.

If you already have a Google Plus account you can edit your privacy
settings by going to: https://www.google.com/settings/privacy

Here is a quick overview of the different settings available:

- Visibility settings.

Allow you to customize your public visibility for specific profile sections.

This allows you to keep specific information on your profile private,
while allowing other information to be seen by the public.
The only thing that you cannot make private from within your profile is your name and your profile photo.

If you want to check your profile visibility settings you can do that by
clicking on the on the icon next to each section while in edit mode.
This will let you know whether the section is private, visible to your circles, extended circles, or to the public.

- Contact information

This is where you can set up how people are allowed to contact you
through your profile. You can allow them to contact you directly from
your profile or give them the option of contacting you privately without
exposing your email address.

- About

Under the about tab you can add your personal or business Bio to your
profile. It is a good idea to include as much information about yourself
or your business as possible on the about page, because this is one of
the first things people gravitate to when they find you on Google Plus.

Be sure to include a solid tagline as well.
The tagline shows up directly under your name in your Google Plus profile and also shows up in the search engines, so make it count!

- People in your profile

By default people in your circles and people who have added you to
their circles are publicly shown in your profile.
You can control who appears there as well as who can see this information.

- Posts

The Posts tab organizes all the posts shared by the profile owner.

When you view someone else's Posts tab, you'll be able to see all of
the posts the profile owner has shared with you or posted publicly.

- Indexing

While your profile is public, you can choose whether were not you want it indexed by search engines.
This can help increase your visibility and is especially important if you're using Google plus for business
purposes.

There are three actions you have to take that are crucial:
·         Write your summary using only what is relevant to the people you want to connect with. 
It's not the place for listing every job you've ever held, nor is it a chance to showcase your achievement, wonderful though these may be.  It's all about "them", remember.  
·         Use keywords – in every place you naturally can, within your profile
·         Complete your profile as fully as possible
This last point is the most important. 
And if you forget any information or decide to do it later, and forget to do so, you are liable to be reminded on your Google Plus wall.
Here is my own Google+ profile to check out - or Circle me!

But it's not enough just to have a well-optimized Profile.  The next step is to add people to your Google Plus network!
6.  Google Circles for Making Connections
The final action you should take, in order to boost your Google ranking?  Connect with friends and family! 
Google Plus will prompt you to add people from your address book and email accounts when you sign up.  It is to your advantage to add as many as possible.
The easiest way to add people?  Go directly to Google Circles.
1.      Click the "Find People" button
2.      Drag suggested connections into your Circles
3.      Still within your Circles Page, search for individuals by name and add them to the Circle you want
4.      You can also use the "Find Classmates" link from the "All Suggestions" tab to add people from your college or university.  (This option even allows you to select the relevant years from a drop-down menu.)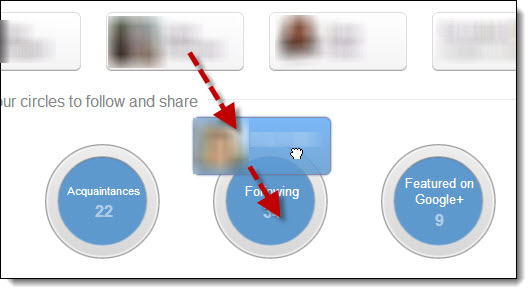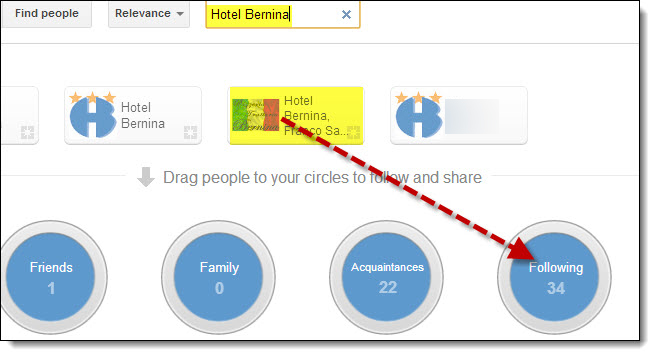 Making New Circles – If you want to make new Circles as you go, nothing could be easier: 
There'll be a blank Circle with "Create Circle" in its center to the left of all suggested and existing Circles. 
Re-name it and drag the appropriate people into it.
When you're done, select at least one person from each Circle you've created or populated, and make a relevant comment to them by clicking on their Profile Photo to open their page. 
When you're done typing your comment, share it with the Circle you've assigned them.
One final tactic:  "Add people"  to your "Following" Circle – experts in your niche or industry.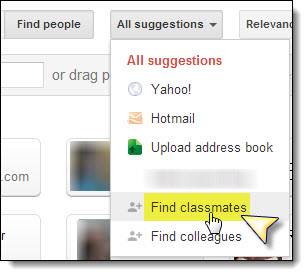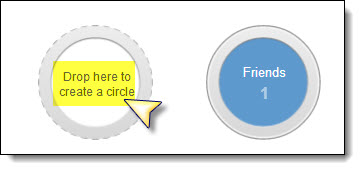 Your Google Plus Badge
One other essential tactic:  Add the "+1" button to your website or blog. 
One easy method is to visit the Google Plus Developers platform where you will find simple Text area Apps that will help you create custom code to copy-paste into your website location of choice. 
And remember to "Like" other peoples' posts by pressing their "+1" buttons too.
Don't put it off:  Set up your Google Plus profile today.
You may discover that it's your easiest social networking decision – and platform – yet.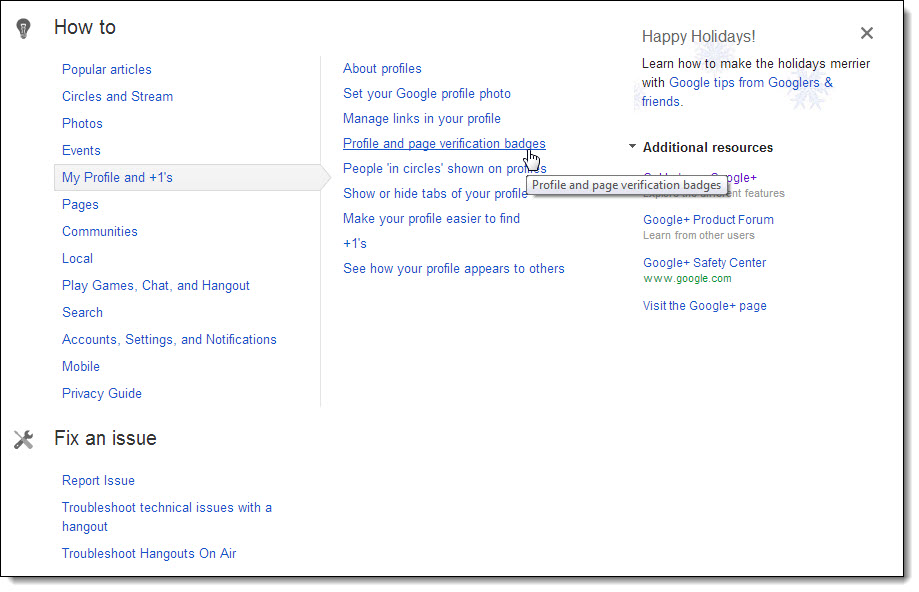 Here are a few more tips that you should keep in mind when using Google Plus:
- When you change your name in your profile it changes your name in
your Google Accounts, including your Gmail and Docs profile.

- Deleting your profile won't delete your Google Account.

- You can add a personal badge linking to your Google Profile to your
website or blog (if you have one) so that visitors can find your
profile or add you to their circles directly from your site.

- You can see what your profile looks like from another user's
perspective.

To do this just look under "view profile" in your account and you will see a box labeled "view profile as" in that box just type the name of one of the people in your circles and you can start viewing your profile as that user.
This can help you see exactly how your profile looks to other users
so that you can make any necessary changes.

- You can edit and delete comments on your own posts as well as posts you made on other people's content.

At the bottom of every post or comment you make you will see an edit
button, so when mistakes happen you can edit or delete the comment
even after it has published.

There's so many more tips and techniques available when it comes to
learning how to take full advantage of everything that Google Plus has
to offer.
Far too many to share in this short email lesson, but I hope we
touched base on a few of the more important ones to help get you
started.

If you're ever stuck all you have to do is perform a simple search online and you will find literally thousands of little tips that you can use to enhance your Google plus experience.

There's no doubt that Google Plus have brought flexibility to a whole
new level when it comes to social networking, by allowing its users to
complete control over their privacy, contact information and content.
Continue to Research Google Plus

I am loading a big selection of how to do it subjects here for computer and internet use, as well as internet marketing, social networking, affiliate marketing, and working at home.
There is also a really good set of videos that I have available for instant download 24/7 that show you how to do almost anything on the internet, including how to use YouTube and all the other popular web2 platforms.
You can check them out here:

One of the products that I have available for my readers here is a video training pack that covers most of the internet marketing and social networking platforms and gives a step by step guide for how to set up your accounts and how to get content loaded to them. Here are some products you can buy online that I think look very useful:
Learn more here about how to succeed as an Internet Marketer, by using the tutorials in the
Internet Marketing Video Vault Training Course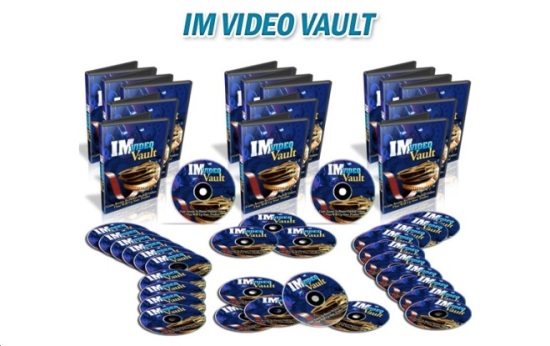 More Resources

Below here I'm featuring more pages with helpful how-to-do-it  tips on how to work with the Google plus platform 
Feel free to submit your own story or article about it, and I will create your own page here with your contribution for the community to read.

More Tips for How To Do It Yourself: Internet & IM
Do you have a tip you want to contribute here? Share it!
Read the latest updates & rest of the how-to tips here:
Click the Title links below to see the latest how to do it tips and contributions to this page...


"Power Tips" magazine is back!
You Get A Free Complete Self Help Report delivered to your email box every edition, plus you get a free PLR article and other great gifts!

SUBSCRIBE BELOW ...  I promise you will want to USE what you learn!
I really want to know what you think of this site, this page, and to hear your tips or suggestions about it.
So please share your story or simply add a Comment in the comment box.
If you feel that the information on this page has been useful to you please give it a Like or share it with your friends - thanks!!

"You are a life Saver!!
I recently discovered this site and I can tell you that my life has not been the same. I now come here EVERYDAY and spend at least 1 hour.
I used to spend that time browsing online fashion and beauty magazine which just means that I spend more. Now I have replaced that habit with coming here.

In future I will think about contributing articles as well. Thank you! Thank you!! Thank you!!! and God bless"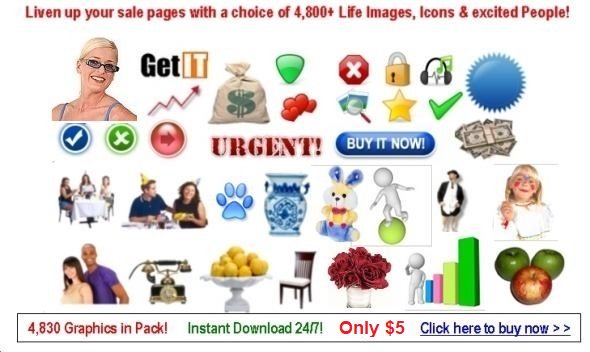 Contact Us | About Us | Terms of Use | Privacy Policy | FAQ | Testimonials

Amazon and the Amazon logo are trademarks of Amazon.com, Inc. or its affiliates. As an Amazon Associate I earn from qualifying purchases. Product prices and availability are accurate as of the date/time indicated and are subject to change. Any price and availability information displayed on [relevant Amazon Site(s), as applicable] at the time of purchase will apply to the purchase of this product.
Back to HOME PAGE of this how to Google Plus section of the site.