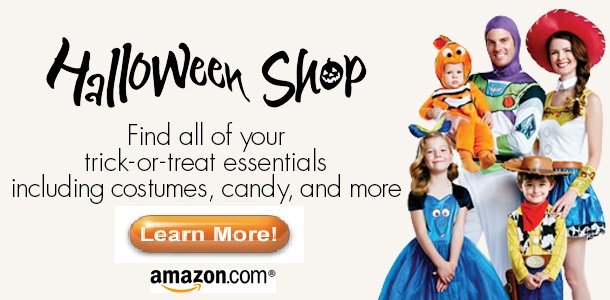 Online Halloween Costume Guide

You will love this section about all the online Halloween Costume buying guide with tons of creative and unique Halloween costume ideas for couples, kids, babies and even pets.
Each year, a new influx of Halloween costumes gets shipped from manufacturers to online retailers and local stores and each year, moms and dads shop online to help their kids (or themselves) find the right costume for school, parties and trick or treating.

It is nearly impossible to see them all or work out which are the most popular for this year, without some sort of buyers guide to help you make your choices.
In this section you will get all the help you need, and I'm adding hundreds of pages with fun costume ideas and descriptions for you to check out whenever you are looking for fancy dress costume ideas.

How to Shop for the Right Costume
Shopping for Halloween costumes can be a little trickier than just shopping for regular clothes.
Because it's a popular holiday, stores everywhere sell out fast – so your first job is to shop early.

Many smart consumers start shopping in the summer before Halloween.
This ensures that not only can they find the right costume as far as character or theme goes, but they can also find the right size.

Shopping online is much more convenient because most local stores don't get their supplies in until pretty close to the exact date, and as soon as they're there, you have to fight off crowds of other moms and dads who are set on getting their kids the right costume, too.

When you shop online, you can also shop by comparing prices and perks (like free shipping) and find lots of accessories to really bring the costume to life.
You can also find plenty of consumer reviews to help you decide whether or not the costume's right for you.

You want look for costumes that have great quality, not something that will fall to pieces the second you or your child puts it on.
You might pay slightly more for better quality, but that means the costume can be worn again – which is especially important if you like to keep your child's costume so they can use it for dress up play.

Sometimes size can be an issue when you're shopping for Halloween costumes.
Some manufacturers have them sewn so that you might need to buy a size bigger or a size smaller than what you normally wear.

That's where consumer reviews come in handy. Other buyers can tell you if something runs large or small.
It's also a good reason to shop early – if something's not sized appropriately, you'll have time to send it back for a correct fit.

Halloween Costumes for Women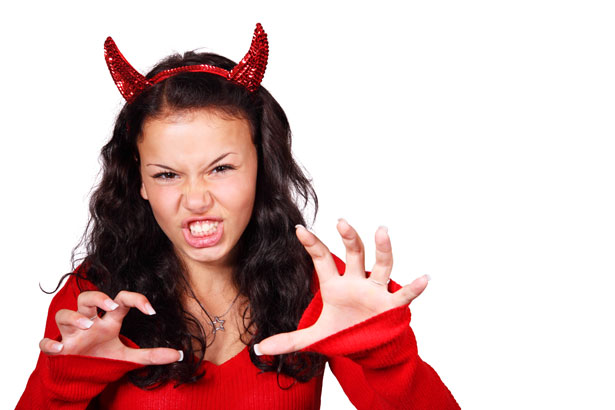 If you're a grown woman searching for a Halloween costume, then you have a wide variety of choices.
You have sexy costumes and those that are fun or more appropriate for a work environment.

If you're looking for a sexy costume, then you can choose just about any theme and you'll find a sexy version of it online.
For example, you can find a Dorothy (from Wizard of Oz) costume that's cute and simple or revealing and flirty.
You can find a female pirate costume that looks realistic, or find one that looks like you're ready for the cover of Cosmopolitan magazine.

Jessica rabbit is a really beautiful costume that has movie star appeal, even though she was technically a cartoon.
You can also find a Lady Zorro costume that gives you that powerful, feminine appeal.

A belly dancer costume is a gorgeous choice for women of all shapes and sizes.
These usually come with a top and pants or a skirt (so that your belly is exposed).

Some also include a matching veil piece. If you want it to be authentic, then get a set of finger zills or cymbals.
These go on your thumbs and middle fingers and allow you to play while you dance!

This year there will be plenty of women who choose a classic costume for Halloween – and those who go with a cute animal theme.
But you can also choose one this year's popular characters.

The Queen of Thrones would be a smart choice this year – especially with the popularity of the Game of Thrones show.
These are beautiful period pieces that reflect another time.

And Hansel and Gretel: Witch Hunters opened the doorway for some amazing Gretel costumes.
They give you that peasant look, and you can be as demure or flirty as you want in this costume.

The popularity of The Walking Dead has made zombies a #1 running pick for Halloween costume for a couple of years now.
The manufacturers have created some great costumes this year, like zombie housewives – whose look is a little tattered, but in a way that looks perfect!

If you're pregnant, then there are really cute costume ideas for you this year!
Of course there are classics like the "bun in the oven," but you can also be an adult fairy, witch, angel or devil!

Don't forget that if you're plus sized, you'll be able to find just about any costume that you see for smaller women in your size, too.
Plus, you might find some great deals that aren't in the average size department, too!
Woman's Zombie Housewife Costume, Black/White, One Size$27.00
Rubie's Costume Deluxe Medieval Maiden Cloak With Faux Fur Trim, Purple, Standard$34.26
Women's Bumble Bee Costume, Black/Yellow, One Size$12.00
Adult South Seas Siren Pirate Costume - Womens 10-12$24.04
Women's Sexy SWAT Woman Police Costume ML$21.83
Parisian Showgirl (Pink/Black;X-Small)$33.98
Halloween Costumes for Men
Even though they're grown men, guys never seem to outgrow their desire to dress up as superheroes.
Each year, a couple of new superhero movies get released and the costumes for that character fly off the shelves.

This year, another Iron Man movie (part 3) was released, so this is still one of the top selling costumes.
You can find a variety of detail on these, and choose between a patriotic look, muscular, or classic design.

Man of Steel hit the theaters in 2013, so you can bet that Superman costumes for men will be big.
Now these aren't the kinds of costumes from the good old days when Superman was confident wearing UndeRoos as his outerwear.
Today's Superman costumes reflect a very manly design and is a little darker than the brightly colored red, white and blue.

Wolverine is always a fun costume for men to wear and this year, "The Wolverine" is expected to be a big hit in July.
You can even grow your sideburns out for the Halloween party!
Or, just apply some for that one night only.
You can find Wolverine costumes with accessories like his trademark claws and well-coiffed hair.

There's another Thor movie coming out this year, too.
Thor: The Dark World is set to hit theaters November 8th, but he's been a hit for a few years now, so his costume will be the perfect choice!

There's also a GI Joe movie (Retaliation) coming out in 2013, and what guy hasn't dreamed of dressing up as their favorite war hero when he was a child?
You can find great costumes for this character and accessories that go with it.

If you happen to be going to a party with a best bud or wingman, then why don't the two of you choose to go as The Lone Ranger and his sidekick Tonto?
Johnny Depp is set to play Tonto when the movie releases on July 3rd, so it's sure to be a big hit.

Characters from the Batman movies are always popular – not just The Dark Knight, but the villains like the Joker and Bane.
Star Wars is another popular film franchise that has dozens of characters you could dress up as.

If movie characters aren't your style, then feel free to choose among the many funny or classic costumes, such as a Viking, a ninja or samurai, police officer or firefighter, or a character from one of your favorite video games – like Master Chief from Halo or Ezio from Assassin's Creed.

California Costumes Men's Pimp,Red,Large$24.12
Avengers Iron Man Mark 7 Classic Muscle Costume, Red/Gold, Large$18.46
Rubie's Costume Supreme Edition Muscle Chest Superman, Blue/Red, Medium$164.13
Disguise Kids Spider-Man Muscle Chest Halloween Costume Medium 7-8$17.14
Fun World Costumes Men's Mens Popeye Costume, Blue, One Size$16.93
California Costumes Men's Deluxe Classic Toga Set, Cream, One Size$23.99
California Costumes Robin Hood Adult Costume, Olive/Brown, X-Large$27.62
Star Trek the Next Generation Deluxe Blue Shirt, Adult Medium$25.25
Halloween Costumes for Couples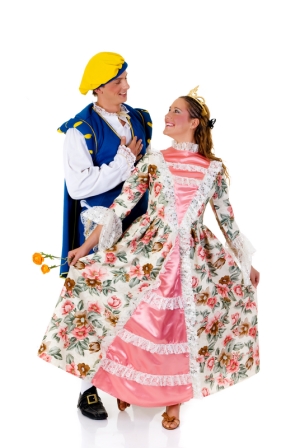 Dressing up as a couple for Halloween can be really fun! The key is to come up with a costume idea that both of you will enjoy.
Or, take turns each year picking out what the two of you will wear.

Lois Lane and Superman (or Clark Kent) is a great choice for this year because the Man of Steel movie is a hit.
Your guy can dress up in the traditional S costume or put on a chunky pair of black glasses and a suit and go as Clark Kent.

Iron Man and Pepper Potts will be a great choice for fans of this movie franchise.
Pepper is the love interest of Iron Man (Tony Stark) – and you can either have him dress up as Tony or Iron Man (but Iron Man's more fun)!

Hansel and Gretel – the witch hunters are going to be popular this year.
This is a brother and sister duo, but there's nothing in the rulebook that says you and your significant other can't play the part!

The Lone Ranger and a female Tonto is another out of the box option.
Tonto is traditionally played by a male – but there are tons of really cute female Indian costumes out there and as long as he's wearing a Lone Ranger one, everyone will understand.

You could also be a mob boss and his moll if you want to live on the wild and dangerous side for the night.
The speak easy designs are very chic – flapper dresses and pin stripes suits.

Love the sock hop look? You could be a Thunderbird couple from the movie Grease – or go as the movie's main stars – Olivia Newton John as Sandy and John Travolta as Danny Zuko.

Austin Powers and a hippy chick can never go out of style.
When the movie was first released, it was already seen as a throwback to the 60s.
So if you're into Flower Power and all that, get groovy, baby!

One style that's newer and perfect for couples that like to be unique is Steampunk.
You can go as a Steampunk couple in love. It's a style that's part Victorian, part supernatural and part machinery. The outfits are amazing.

You can also choose a classic couple costume, such as a Samurai and a Geisha girl or a cave man and cave woman.
There are all sorts of couples costumes you can pick from.

Elf - Buddy & Jovi Adult Couple Costume Set With Wig New$98.99
Zombie Bride Dress & Zombie Tuxedo Jacket Adult Couples Costume Set
Rasta Imposta Bacon and Eggs Couples Costume, White/Brown, One Size$16.44
Plug & Socket Couples Set Plus Adult Costume Size Plus$31.19
Adult Adam and Eve Costume Set-One size fits most adults$15.16
Cave Stud & Cave Beauty Adult Standard Couples Costume$35.98
Star Wars Dlx Han Solo Std & Princess Leia Medium Couples Costume Set$102.10
Adult Size Mickey and Minnie Mouse Couple Mascot Costume a Pair Birthday Party Mascot$259.00
Halloween Costumes for Babies and Toddlers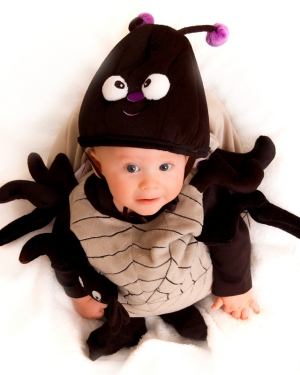 When it comes time to buy costumes for your baby or toddler, you might find yourself buying more than one costume.
They're so cute – and you can get one for and parties or trick or treating you plan and one for any professional pictures that you have taken of your little bundle of joy.

When you're shopping for an infant, you need to make sure you get the right size – especially if it's a bunting costumed.
You don't want the baby's legs scrunched up in the costume.

You also want to see if it's breathable material or nice and warm.
This might make a difference, depending on where you live. You don't want the baby getting too hot or too cold.

Buying a costume that includes a hat or mask for a little one can pose a problem.
Babies and toddlers will often get fussy when anything's covering their faces or on top of their heads for any period of time.

There are so many precious baby bunting costumes for infants – like baby Elvis, a Whoopie Cushion, peas in a pod or chili pepper, and even Crayola crayons.
You can also find bunting costumes for movie characters like Snow White or sports players.

Toddlers get to branch out a bit more.
Some toddlers do great with a mask or hat – in fact, you might find it impossible to get them to take it off at the end of the night!

Animals are great choices for toddlers. They love the zoo, and getting to dress up as a roaring lion or funny monkey can be a blast.
There are other fun animal options, too – like dragons and sharks!

Characters start getting fun at this age. Mickey and Minnie Mouse are always a cute option – and perfect for twin toddlers, in fact.
You can buy specific colors for this – like traditional red and black or pink.

There are lots of really cute out of the box options for 2013, like a little Garden Gnome, miniature Viking, or Itty Bitty Spider.
The toddler costumes are great because many of them would be good for girls or boys.

They also have a ton of character costumers for Superhero movies – like the Hulk, Iron Man, Superman, Batman, Spiderman, Wolverine, and Captain America.
You can also visit this page dedicated to Newborn Halloween Costume Ideas!


Lil Characters Unisex-baby Infant Lion Costume, Brown, 12-18 Months$33.95
Lil Characters Unisex-baby Infant Lobster Costume, Red/Orange, 12-18 months$31.01
Lil Characters Unisex-baby Infant Monster Costume, Blue/Yellow/Orange, Medium (12-18m)$25.34
Baby Girls Lamb Costume, Pink, 6 - 12 months$15.52
Lil Characters Unisex-baby Infant Dragon Costume, Teal/Green, Medium (12 - 18 Months)$30.73
Lil Characters Unisex-baby Newborn Tiger Costume, Orange/Black/White, 6-12 months$18.19
Super DC Heroes Wonder Woman Toddler Costume$15.07
Toddler Cowboy Costume Size 2-4T$19.99
Halloween Costumes for Girls
Once your little girl graduates out of toddler costumes, you usually have them giving more input about what kind of costume they want to wear for Halloween.
Some parents buy more than one costume – one that meets with all school restrictions, and another for Halloween night when they go trick or treating.

The great thing about costumes for younger girls is that they like to play dress up, and make-believe play is a wonderful creative exercise for kids!
So the costumes get plenty of use, not just for a single day of the year.

Disney princess costumes are always a hit for the younger girls.
They love to dress up as Cinderella, Snow White, Belle, Ariel, Jasmine, Rapunzel, and other characters.
This year, Merida costumes from the movie Brave will be hot sellers, too!

Younger girls also like to be superheroes, and not necessarily Wonder Woman!
Manufacturers have turned almost any superhero costume into a girl's option these days, so there are Spidergirl and Supergirl costumes, too.
There's even an Ironette Ironman costume for girls, since that's been the hit superhero movie for several years in a row now.

Wreck It Ralph has been a top movie for 2013, so you can bet that Vanellope Von Schweetz costumes will be popular among the younger girls.
Any time there's a hot Disney movie or other film, look for your child to ask about dressing up like those top characters!

This year, Monster High costumes will be big again for the tween and younger crowd.
Lagoona Blue, Frankie Stein and Clawdeen Wolf are always the top sellers.
You might have to buy the wigs separately, because many of the costumes are for the clothing and jewelry accessories only.

Vampires are still big with the tween and older crowd now.
Ever since the movie Twilight came out – and the follow-up movies, girls all around the world have been in love with the idea of dressing up as Bella for a day and pretending to be the apple of Edward and Jacob's eyes.

You'll need to watch it on the vampire girls' costumes, though.
Some of them are modest, but others are what some parents might consider inappropriate. You'll need to make that call for yourself.

Zombies are the other scary costume that girls love to wear.
From zombie cheerleaders to zombie brides, these walking dead characters are more popular than ever – and they can be bought from barely gory to over the top disgusting!

Of course, some teenaged girls will want to don a more adult looking costume.
They like dressing up in retro outfits from the 60s and 80s, for example. Some of them want to be flappers from the 20s.

Even character costumes are a hit with older teen girls. They like to dress up as the Mad Hatter or Alice in Wonderland.
There are several really cute Mad Hatter costumes for girls – they're fashionable and not too cheesy.

And let's not forget Katniss from The Hunger Games.
The second movie (Catching Fire) is scheduled for a November release, and although it's after Halloween, the buzz is already building for it!
Precious Lil' Pirate Girl's Costume, Toddler M (3-4), One Color$13.25
Storytime Wishes Snow White Costume, Small$14.73
Disney Jake And The Neverland Pirates Izzy Classic Costume, Pink/Purple, Child Small$15.62
Star Wars Padme Amidala Deluxe Child Costume$25.37
Monster High Frankie Stein Costume - One Color - Large$10.54
Monster High Deluxe Clawdeen Wolf Costume - Large$28.19
Halloween Costumes for Boys
As boys grow out of the cute toddler stage, they want to be strong and formidable characters!
Sometimes they want to be funny and goofy, too!
Many boys continue wanting to dress up as animals, but instead of a cute lion with a precious man that Mom or Dad picked out, they might choose a ferocious T-Rex!

Younger boys are interested in characters from The Croods, Wreck It Ralph, Iron Man, Man of Steel, Despicable Me 2, and a few other hot picks.
Just find out what movie they're obsessed with and that's probably what kind of costume they'll want.

Captain America has recently seen a rise in popularity since the Avengers movie series came onto the scene with a bang.
You can buy costumes that come with or without his famous shield – and some of them even light up!

Batman (the Dark Knight) will never go out of style.
From the classic costume of years gone by to the new stealth-like black attire, he's a hit with little boys who want to catch the bad guys.

Classic movies like Star Wars give your young (or teen) boy a lot of options.
From the evil Darth Vader to Chewbacca and Storm Troopers, they have tons of choices they can pick – and the costumes range from simple one piece fabric suits to extravagant costumes that look just like they came off the set of the movie.

For years, video game characters like the Super Mario Brothers have been a popular costume for boys of all ages to wear.
In 2013, Minecraft is one of the most popular video games – and it's a hit with young kids all the way through adults.

Your son might want to be a creeper, which is a green character that sneaks up on you and causes you to lose one of your lives in the game if you can't run away from it fast enough.

Zombies are also a hit with boys.
The Walking Dead is what's caused a spike in this costume popularity, and you can get a simple zombie costume for the younger (tween) boys, and a super gory costume for the older teens.

Disguise Wolverine Origins Classic Muscle
Disguise Kids Muscle Chest Captain America Halloween Costume Boys M (7-8)(48-60 lbs.)$17.65
California Costumes Toys Stealth Ninja, Small$12.98
Disguise Kids Spider-Man Muscle Chest Halloween Costume Medium 7-8$17.14
Disney Store/Disney Junior Jake and the Never Land Pirates Jake Halloween Costume for Toddler Boys Size 4T$49.99
Disney Jake And The Neverland Pirates Jake Deluxe Costume, 4T-6T$19.32
Green Lantern Hal Jordan Halloween Costume - Child Size Small 4-6$15.59
Halloween Costumes for a Group
If you're part of a group that wants to dress up in sync with one another this year, you have lots of popular choices to choose from.
You can go with something they sell in stores, like a Jersey Shore collection with Snookie, Jwow, Situation and the others – or think outside the box and buy individual costumes to create your own group look.

There are Superhero movie characters you can all dress as.
In 2013, the Avengers will be a good concept to go with.
Captain America, Thor, Iron Man, The Hulk, Black Widow, and Hawkeye would be smart choices.

Just as boys like Star Wars costumes to wear individually, they also make great attire for a group costume.
Everyone can choose their favorite character – Darth Vader, Luke Skywalker, Han Solo, Princess Leia, Chewbacca, R2D2, C3PO, Obi-Wan Kenobi and a host of others.
Just make sure you don't double up and have two Vaders!

Celebrities are always fun. You can dress up as the cast of one of the Celebrity Apprentice seasons, complete with one person morphing into Donald Trump (with signature hairstyle).

You can dress up in a signature style from a different era, like Steampunk, which combines a Victorian look with mechanical elements.
Or 60s Hippy men and women – that would be a cute look for a group.

If you're into games, then you might look at the many Angry Birds costumes they have for groups.
You can be one of many of the bird characters and have a few of you dress up as the pigs.

They even have the costumes for the Star Wars Angry Birds now, so you can dress up as Darth Vader Pig, Princess Leia Angry Bird, and other popular characters from that spin-off game.

Is your group into the Twilight saga?
Then you might have some of you dress as the Volturi while the others put on costumes to look like Bella, Edward, and Jacob.

Other group costume ideas include music groups, the Muppets, Scooby Doo (perfect if you have a mix of men and women), Sesame Street, the Flintstones, Wizard of Oz and Harry Potter characters!

Paper Magic Group Angry Birds Red Bird Costume$9.05
Star Trek the Next Generation Secret Wishes Woman's Deluxe Red Jumpsuit, Adult Medium$26.53
Harry Potter Adult Deluxe Robe, Black, Standard$19.80
Disguise Costumes Men's Mad Hatter Prestige (Movie),Multi,XL (42-46)$62.38
Charades Adult Womens Alice in Wonderland Halloween Costume Medium$44.99
Captain Jack Sparrow Classic Young Adult Costume$25.44
X-Men Character Masks (10 count)$16.99
Men's Steampunk Gentlemen Costume, Brown/Black, One Size$35.62
Halloween Costumes for Work
When you're at a workplace, dressing up for Halloween can be a little tricky.
You really don't want to go with something too sexy or flirty (or vulgar) because it is a place of business.

But that doesn't mean you can't have fun with it! One really popular hit TV show – The Office – has spawned many cute ideas.
Jim was infamous for his simple costumes, like a "Hi, My Name Is Dave" sticker or three dots on his shirt to reflect a "three hole punch."

Some people have sticky-noted themselves for their costume.
An entire head to toe Sticky Note costume would be really cute, but you'd need to calculate about how many packs you'd need to cover your entire body (and take extra to work in case a few fall off)
There is always the idea of all of you showing up in a coordinated theme, as Prisoners chained to the job, with some Police officers or Guards thrown in. 
Or you could all be worker Bees - with a few flowers and a Bee Keeper scattered in.
There is also always the chance to show your boss that you are all woking yourselves to the bone, by dressing as Skeletons!

Your boss many want you to choose a costume that can easily be removed for important meetings that day, so costume make-up may or may not be an option.
And you want to make sure that you're comfortable in your costume, or that you take back-up clothes to change out of.

Some people like to dress up as office supplies or things you might find around an office.
This might include dressing up as a cubicle, a paper shredder, a stapler, etc.

There are some brave souls who will go to work that day dressed as their boss.
This can be funny or get you into a lot of trouble, depending on what your boss thinks of it.

Rubie's Costume Haunted House Collection Prisoner Lady Costume, Black/White, One Size$8.62
Rubie's Costume Haunted House Collection Prisoner Man Costume, Black/White, One Size$6.47
Dreamgirl Mens You're Busted Policeman Officer Uniform Costume
Unisex - Adult Bee Keeper Costume
Adult Skeleton Halloween Costume$34.99
Women's Sexy Skull Costume$32.99
Toopbill Halloween Ghost Party Cosplay Dance Clothes (adult(160-170cm), A(skeleton))$9.88
Halloween Costumes for Dogs and Cats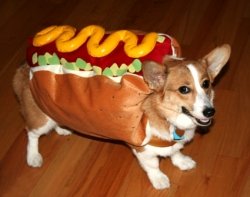 On Halloween, it's not just men, women and children dressing up as their favorite characters – it's pets, too!
Now some pets hate wearing costumes.
They'll sit there after you put it on them pouting in a corner of the room until it's removed.

Others love the attention and go about their business happily playing, no matter what they look like!
The most important thing is that the costume you choose is safe and comfortable for your pet.

Whether you're getting a costume for a dog, cat, or even a bird, it needs to meet both of those requirements before you make your animal friend put it on for awhile.

There are some amazing dog costumes – probably because man's best friend is more amenable to wearing one than a cat or a bird is.
Check out the various Animal Planet dinosaur costumes that turn Fido into T-Rex or a Triceratops for the day.

You can also find superhero costumes for your dog, sharks, and a really cute one where it looks like a miniature cowboy is riding on the back of your four-legged friend.

Cats are harder to buy for, but not impossible. Some pet owners put one accessory on their cat, like a crown hat to show who really rules the roost.
Others get full body costumes, like the one that turns your cat into a dog – but be forewarned that may not go over well with your cat.

You might see costumes sold online for birds, too.
Just be careful because this can be frightening for some birds and they might break a wing or become frantic trying to remove the costume.
Better to give them some fun "setting" accessories and PhotoShop an outfit onto them if you wish!

Animal Planet PET20109 Raptor Dog Costume, Medium$11.99
Animal Planet PET20104 Triceratops Dog Costume, Medium$3.75
Vktech Dog Cat Pet Supplies Lovely Bumble Bee Dress Up Costume Apparel Coat Clothes$3.82
The Hopper bunny costume hat for cats and dogs (x-small (6-10" collar))$19.99
Police Dog X-Large Pet Costume$9.36
Pet Bride Dog Halloween Costume For Large Dogs$24.99
Important!
Halloween costumes this year are already starting to sell.
There's no such thing as "too soon" to buy what you need – because you may wake up one day ready to buy and be told, "Sorry, we're out!"

Cheap Versus Expensive Halloween Costumes 

When you're shopping for costumes this Halloween season, consider whether you want to splurge or save your money.
If you splurge, then you're going to find many high-end costumes online that are extremely realistic.

Some have all kinds of technology built into them to bring them to life – and of course, you'll pay a small fortune to get one of these.
It will be worth it if you're going to a big party, plan to wear it again in the years to come, or have the money to blow on it!

Some people have to get a costume on a small budget, and you can find all sorts of elements for Halloween that help you turn your own attire into a costume without officially buying a full one.

For example, you can invest in a simple mask and wear your own clothes.
You want a mask that looks realistic and is comfortable for you to wear throughout the day.

A wig and simple accessories like sunglasses, jewelry and other details can help you create a costume on your own.
Same goes for make-up – put on some costume make-up and you can be almost anything – vampire, zombie – you name it!

Sexy Swashbuckler Adult Costume (Small, Red)$32.04
Elvis Now Deluxe Aloha Elvis Costume, White, Large$35.60
DC Comics Secret Wishes Sexy Deluxe Batgirl Adult Costume, Large$18.49
Forum Men'S Colonial American Complete Costume
Adult Original Royal Pharoah Costume (shoes, staff not included)
Stay Puft Marshmallow Inflatable
In Character Sexy Womens Pink Fairy Pixie Adult Halloween Costume S$43.49
Star Wars Collector Supreme Edition Stormtrooper Costume, Adult Standard$622.46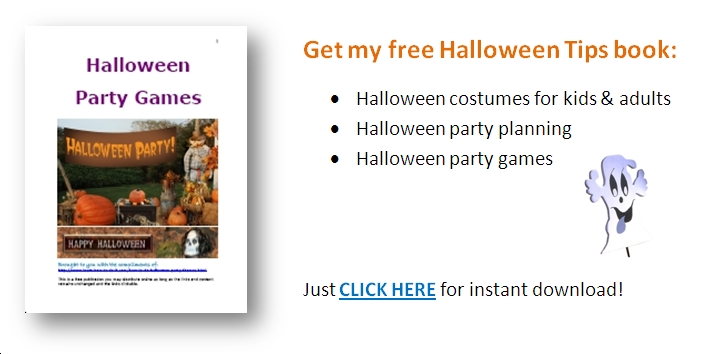 Below here I'm featuring a heap more pages with helpful how-to-do-it  tips on this subject of selecting and buying online Halloween costume and fancy dress costumes that are fun and unique. 
Feel free to submit your own story or article about your favorite fancy dress costume ideas, and I will create your own page here with your contribution for the community to read.

More Tips for How To Have Fun: Holidays & Seasonal Celebrations
Do you have a tip you want to contribute here? Share it!
Read the latest updates & rest of the how-to tips here:
Click the Title links below to see the latest how to do it tips and contributions to this page...


"Power Tips" magazine is back!
You Get A Free Complete Self Help Report delivered to your email box every edition, plus you get a free PLR article and other great gifts!

SUBSCRIBE BELOW ...  I promise you will want to USE what you learn!
I really want to know what you think of this site, this page, and to hear your tips or suggestions about it.
So please share your story or simply add a Comment in the comment box.
If you feel that the information on this page has been useful to you please give it a Like or share it with your friends - thanks!!

"You are a life Saver!!
I recently discovered this site and I can tell you that my life has not been the same. I now come here EVERYDAY and spend at least 1 hour.
I used to spend that time browsing online fashion and beauty magazine which just means that I spend more. Now I have replaced that habit with coming here.

In future I will think about contributing articles as well. Thank you! Thank you!! Thank you!!! and God bless"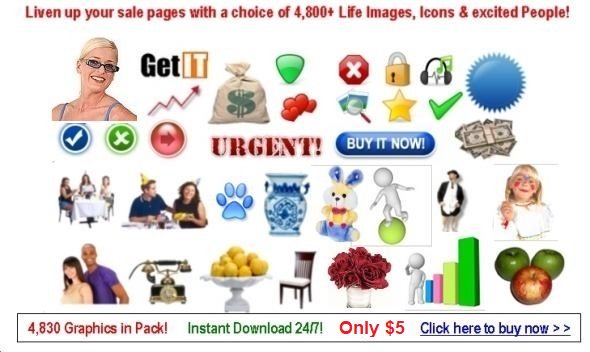 Contact Us | About Us | Terms of Use | Privacy Policy | FAQ | Testimonials

Amazon and the Amazon logo are trademarks of Amazon.com, Inc. or its affiliates. As an Amazon Associate I earn from qualifying purchases. Product prices and availability are accurate as of the date/time indicated and are subject to change. Any price and availability information displayed on [relevant Amazon Site(s), as applicable] at the time of purchase will apply to the purchase of this product.
Back to HOME PAGE of this online Halloween costume buying guide section of the site.